Hardings on East 21st Street looked inviting, and as we walked in we knew that we'd be able to hear each other over dinner — a big plus.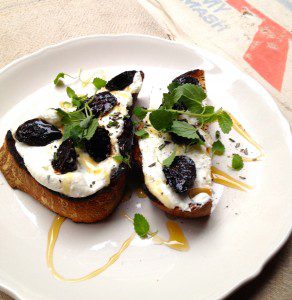 On the very hot summer's eve, we ordered a bottle of crisp Four Graces, Pinot Gris ($43) to sip while deciding on our nibbles.
The fig toast comes topped with warm whipped goat cheese, sliced mission figs and fresh herbs, all drizzled with rosemary honey ($10). The refreshing nectarine and beet salad was tossed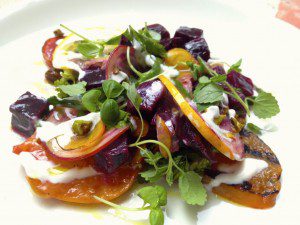 with baby greens, meyer lemon slices, pistachios and crème fraiche ($13). I recommend both.
Our salad was a grilled heart of romaine, stuffed with radicchio and served with garlic crisp, grana slivers and lemon ($14).
We finished with the Hardings Burger made of house-ground Angus chuck and short rib, topped with Amerian cheese and served with a pickle and fries. When writing this review, I noticed they charged us $18 instead of the menu listed $16. My advice: Be sure to check your bill.
– bonnie
Hardings
Gramercy/Flatiron
32 E 21st St
New York, NY 10010
(212) 600-2105
www.hardingsnyc.com