CITY EDITIONS
February 18, 2010
In trying to find a decent spot to eat in the Fort Lauderdale area, I reached out across social media.  My friend Jim Bozzi responded on Facebook sharing info about the Greek Isles Taverna, "Delicious authentic Greek food…Does not take reservations like a Pepe's (in New Haven, CT). But everyone we ran in to reco'd it. Went last night. Deee-lish!"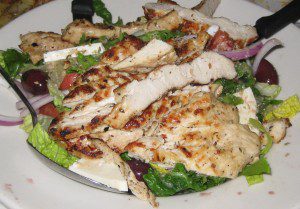 My sister and I decided to give it a try. The place was jammed with long — but fast moving — lines. We waited only 15 minutes to be seated and begin nibbling the complementary garlicky hummus.
While in line, I had read an article on the wall from the Sun Sentinel, touting the restaurant's roast chicken (said to come from Bell & Evans) seasoned with  lemon, oregano and olive oil and roasted until the crisp. Not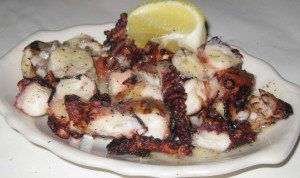 in the mood for a piece of chicken, but wanting to sample that specialty, we ordered a chicken Greek salad ($14). Lots of tender strips of boneless breast meat topped a huge salad of greens, tomatoes, cucumbers, green peppers, red onions, feta cheese and a couple of Kalamata olives. Two of us had difficulty finishing the ample portion.
My other recommendations include the also garlicky tsatziki ($5) and delicate and tender grilled octopus chunks in a lemon-oregano olive oil ($14).
Reasonably priced and well-worth the visit (and wait)!
- bonnie
Greek Island Taverna
330 North Ocean Boulevard
Fort Lauderdale, FL 33308
954.568.0008
Leave a Comment
Posting Policy
Bite of the Best encourages our readers to comment on and review any products that we write about. Please express your opinions in a mature and civil tone of voice. We will not post rude or otherwise inappropriate material on Bite of the Best. We look forward to your comments and reviews!