While visiting Park City, I was invited to Goldener Hirsch to sample their seasonal contemporary cuisine.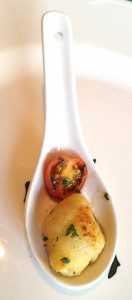 We were seated in this charming Austrian-style decor restaurant by the open French doors with a spectacular view of Sterling express lift and Deer Valley Mountain. With the delightful warm breeze, it seemed as if we were dining alfresco
I was thrilled with the chef's amuse bouche, as it contained a flavorful heirloom tomato and the tender gnocchi — I had considered ordering — with black Oregon truffle oil.
Next we came a platter of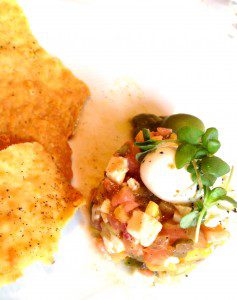 house-cured chartcuterie with bresaola (spiced air-dried beef), Bayonne ham from the Basque region, Italian sweet salami, dauerwurst (cured bratwurst), buffalo mortadella and duck prosciutto with house-made pickled Brussels sprouts!, cherry tomatoes and gherkins, two types house-made mustards (sweet yellow stadium and spicy whole grain) all presented on a wooden platter ($20) and served with a basket of house-baked, warm bread and cheese puffs. This platter could have almost been a meal in itself. But we had only just begun!
For appetizers we shared an a mol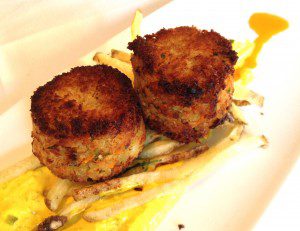 ded caprese salad ($11) with heirloom yellow, orange and red tomato "tartare" topped fresh buffalo mozzarella and quail egg, seasoned with Castelvetrano olive pistou and yummy Reggiano crisps – sort of a cross between flat bread and lavash — and their Thai curry, kefir lime jumbo lump crab cakes  ($15) that Janice Fine, the food and beverage manager, had touted correctly: "Goldener makes the best crab cakes in town."
The two small crab cakes, served with a ginger tartar sauce atop hand-cut skinny frites, were crispy on the outside, soft on the inside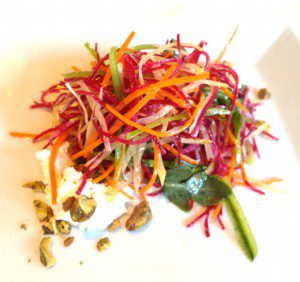 with just enough binding to hold them together.
The finely julienned red and gold beet was my favorite salad with wild arugula, house-made lemon scented ricotta, sugar snap peas, carrots and toasted pistachios and ($11). We also sampled the warmed roasted Utah peach half topped with melted Oregon blue cheese along side tossed greens in a Verjus citronette ($10).
For entrees, the Mishima Farms Waygu beef bavette (a fancy name for flank steak) was cooked to perfection, sliced and served over a flavorful corn and grits base, with asparagus slaw, crème fraiche with cippolini onions and a watermelon gastrique ($38). The deconstructed salmon "chowder" contained with crispy Alaskan salmon, steamed Manila clams in shell, grilled crisp house-cured pork belly and roasted purple and yellow fingerling potatoes served in a light lemon crème ($36). The bland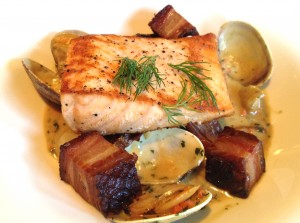 house-made fettucini tossed with Shephards' chevre goat cheese, tomatoes, asparagus, fennel, cascade range mushrooms  needed more seasoning.
Obviously with all this good food, we found ourselves too full for dessert – but being responsible food tasters we shared just one: the salted peanut & chocolate marjolaine – milk chocolate gianduja, slide ridge honey crème fraiche, peanut butter, vanilla buttercream & sea salt ($10).
I recommend  this elegant dining experience next time you're in Park City.
– bonnie
Goldener Hirsch
Silver Lake Vlg
7570 Royal Street
Park City, UT 84060
(435) 649-7770
goldenerhirschinn.com