After visiting Art and Appetite: American Painting, Culture and Cuisine exhibit at t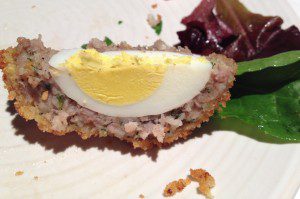 he Chicago Art Institute earlier this winter, we headed across Michigan Avenue for brunch at Gage, a restaurant/tavern where windy-city politicians hang out during the week. You'll find it across from the "bean" in Millennium Park.
To start, we sampled their unusual and delicious libation — brunch punch ($9) made from apple brandy, Calvados, Prosecco and blood orange cordial syrup. It went down very smoothly, packing a power punch.
While sipping that we ordered a Scotch egg ($8) to share. This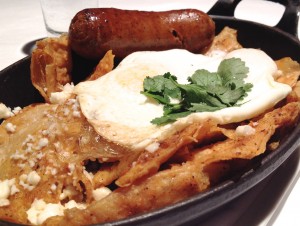 perfectly hard-cooked egg wrapped in sausage, rolled in bread crumbs and fried is not to be missed. It's served with a large dollop of grainy mustard and some greens ($8).
I also suggest the chilaquiles ($13), layers of tortillas, soaked in roasted tomato salsa then topped with over-easy eggs and sprinkled with queso fresco. It's accompanied by a redundant side of crème fraîche:  it was rich enough without it. The dish is delicious and hearty, especially, with a side of spicy chorizo ($3).
Also good are the five large shrimp with creamy grits, peeled grape tomatoes, roasted shallots and house made breakfast sausage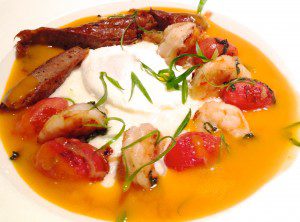 , topped with poached eggs  — with the waiter pouring a  lobster velouté over tableside ($16).
For dessert, we split the Meyer lemon tart ($9) with coconut, basil and Chantilly cream – I enjoyed the flavor of the lemon yet was put off by the telltale refrigerator off-taste from not being covered when stored.
Still I'd highly recommend a stop at Gage, when visiting Millennium Park.
– bonnie
Gage
Loop at Monroe
24 S Michigan Ave,
Chicago, IL 60603
(312) 372-4243