CITY EDITIONS
June 10, 2012
Some friends asked if I'd mind meeting them at G-Zen in Branford, an entirely vegan restaurant with —whenever possible — organic and sustainable ingredients. G-Zen was opened by Mark Shadle and Ami Beach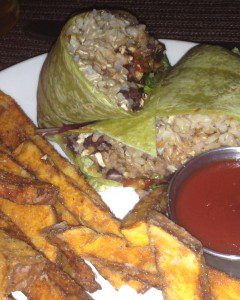 Shadle in the location of the short-lived Suburban.
We shared a G-Zen dim sum plate:($14) with steamed vegetable dumplings, fresh spring roll with shredded carrots, daikon  and cabbage and an assorted turmeric-spiced vegetable tempura. That was served with a ginger-tamari mirin sauce and a spicy cilantro peanut sauce. We liked the spicy sauce best.
We shared the downward dog burrito, a spinach whole grain wrap overstuffed with organic brown rice, black beans, spicy cilantro salad, shredded veggies and non-dairy  mozzarella-style (Daiya)"cheese." The burrito came with a side of sweet potato fries with house made smoked hickory ketchup ($12), one of the best things we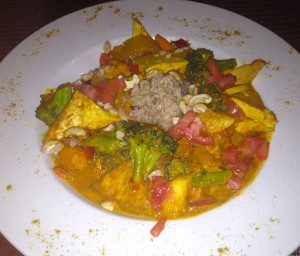 ate.
The Kama sutra ($20) is a flavorful combination of sweet potato, broccoli and other veggies simmered in a creamy coconut curry with tofu, diced tomatoes lemongrass & crunchy cashews served over organic brown rice.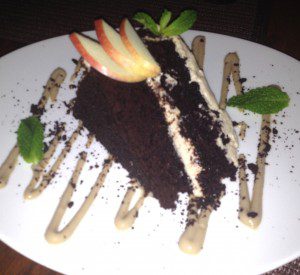 We decided to try the chocolate stout cake with coffee icing. It was okay, a tad try but the icing helped.
Interesting food, but this is more for vegans than me. Once was enough for me – this food actually had me craving a juicy burger!
- bonnie
Follow @BonnieBOTB

G-Zen
2 East Main Street
Branford
(203) 208-0443
g-zen.com
Leave a Comment
Posting Policy
Bite of the Best encourages our readers to comment on and review any products that we write about. Please express your opinions in a mature and civil tone of voice. We will not post rude or otherwise inappropriate material on Bite of the Best. We look forward to your comments and reviews!