For the Connecticut chapter of the National Speakers Association,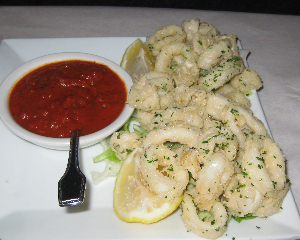 we have monthly networking sessions over a meal. The meetings have a topic (this month's was a "Marketing Idea Swap"), are fun, and encourage camaraderie, but sadly the food is generally mediocre.
Fratelli's was no different.
I'm not saying the food is bad, it's just not very good. We started with lightly battered fried calamari that we shared while waiting for the group to gather. The squid was tender, not overcooked— but the batter could have used seasoning.  We also had forgettable bruschetta.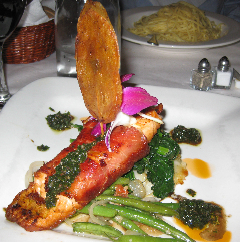 My salmon was ungapatchka (a Yiddish word meaning ridiculously overdecorated or ornate.) It was moist, not overcooked, but the dish had way too many ingredients.
The others at the table delighted in the desserts. I just sat with a cup of espresso and delighted in the company.
I'd only recommend this restaurant if you happen to be in the neighborhood.
Fratelli's Restaurant
950 Yale Avenue
Wallingford, CT