RECIPES
March 2, 2008
"Morphing means to take a recipe (or part of a recipe) that you're already making, double it, and transform the extras into an entirely different meal," explained Robin Miller. She morphed one chicken dish into three others, with recipes from her cookbook "Robin Miller Quick Fix Meals" (The Taunton Press, 2007) on the main stage in the Grand Tasting Village at the South Beach Wine & Food Festival this past weekend.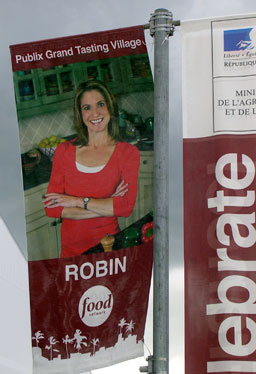 MAIN RECIPE: Roasted Chicken with Smokey Apricot Sauce
Serves 4
TOTAL TIME: 45 minutes
Prep time: 10 minutes
Walk away time: 35 minutes
Cooking spray
10 (5-ounce) skinless chicken breast halves (with bone)
Salt and ground black pepper
1 1/2 cups apricot preserves
2 tablespoons reduced-sodium soy sauce
1 teaspoon liquid smoke
Preheat oven to 400º. Coat a large roasting pan with cooking spray.
Season chicken all over with salt and black pepper. Arrange chicken in prepared pan and set aside.
In a small bowl, combine apricot preserves, soy sauce and liquid smoke. Mix until blended. Pour mixture over chicken.
Roast 35 minutes, until chicken is cooked through. Serve four chicken breast halves with this meal and refrigerate remaining chicken until ready to use (or freeze up to 3 months).
MORPH RECIPE #1: Chicken and Wild Mushroom Quesadillas
Serves 4
TOTAL TIME: 16 minutes
Prep time: 10 minutes
Active cooking time: 6 minutes
Cooking spray
2 roasted chicken breast halves
4 (8-inch) flour tortillas
2 cups sliced wild mushrooms (any combination of shiitake, cremini, oyster, porcini, Portobello, etc.)
1 cup thinly sliced oil-packed sundried tomatoes
1 1/3 cups shredded reduced-fat Monterey Jack cheese
Coat a large skillet or griddle with cooking spray and set pan over medium heat to preheat.
Using a fork, pull chicken meat from bone in shreds.
Arrange tortillas on a flat surface. Top one side of each tortilla with an equal amount of chicken, mushrooms and tomatoes. Top filling with shredded cheese (1/3 cup per tortilla). Fold over tortillas to cover filling, making half-moon shapes. Place quesadillas in (or on) prepared pan and cook 3 minutes per side, until tortillas are golden brown and cheese melts.
MORPH RECIPE #2: Thai Chicken Salad with Peanuts and Lime
Serves 4
TOTAL TIME: 10-15 minutes
Prep time: 10-15 minutes
2 roasted chicken breast halves
1/3 cup light mayonnaise
2 tablespoons smooth peanut butter
1 tablespoon reduced-sodium soy sauce
1 tablespoon fresh lime juice
2 teaspoons sesame oil
1 cup diced celery
1 red bell pepper, seeded and chopped
1/4 cup chopped scallions
Salt and ground black pepper
4 cups chopped lettuce (such as Romaine, Bibb, red leaf, Boston)
1/4 cup chopped peanuts
Pull chicken meat from bone and cut into 1/2-inch cubes. Set aside.
In a medium bowl, whisk together mayonnaise, peanut butter, soy sauce, lime juice, and sesame oil. Add chicken and toss to coat. Fold in celery, red pepper and scallions. Season to taste with salt and black pepper.
Place lettuce on a serving platter or individual plates. Top lettuce with chicken mixture. Top chicken salad with peanuts just before serving.
MORPH RECIPE #3: Chicken Curry with Chick Peas and Tomatoes
Serves 4
TOTAL TIME: 15 minutes
Prep time: 10 minutes
Active cooking time: 5 minutes
2 cups quick-cooking white or brown rice
2 roasted chicken breast halves
15-ounce can chick peas, drained
15-ounce can diced tomatoes, drained
1/2 cup lowfat sour cream
1 1/2 teaspoons curry powder
1 teaspoon ground cumin
1/4 cup chopped fresh cilantro
Salt and ground black pepper
Cook rice according to package directions.
Meanwhile, using a fork, pull chicken meat from bone in shreds. Transfer chicken to a medium saucepan. Add chick peas, tomatoes, sour cream, curry powder, and cumin and mix well. Set pan over medium heat and bring to a simmer. Simmer 5 minutes to heat through. Remove from heat and stir in cilantro. Season to taste with salt and black pepper. Serve chicken curry over rice.
Her newest book ROBIN TO THE RESCUE: Quick & Simple Ideas for Delicious Home Cooking (The Taunton Press $18.95), will be on shelves in bookstores March 11, 2008.
13 Comments on "Food Network's Robin Miller Morphs Recipes on the Main Stage"
Diana Says:


OMG
I can't believe watching her dirty cooking show on foodnetwork channel, she was very dirty.
If you noticed she never wash her hands,she also wearing dirty jewerly on her fingers that contain germs.

She touch raw foods such as fish and chicken ,she would go touch other things or preparing new meal and drink while her hands still dirty with raw tuna and raw chicken.
She would never wash her hands first….BAD SHOW AND DIRTY.
I just don't believe they have her on National TV with dirty cooking, really gross me out.

Linda Harris Says:


Hi,
I viewed food network Robin Miller. I could not find the recipes for the show 11AM on 4/8. Is there any way you could e-mail me the name of the dishes so I could look them up. Thank you very much, Linda Harris

Robin Says:


Wednesday's show was the International Slow Cooker show (found under Quick Fix Meals on the Food Network website, by episode date). The recipes were Slow Cooker Chipotle-Lime Chicken Thighs, Jamaican Rice and Peas, Chicken-Green Chili Straws with Jalapeno-Honey Dip, Jicama Citrus Slaw, Slow Cooker Moroccan Brisket with Red Onions and Apricot Couscous.

laurie frate Says:


can't find your recipe for wild mushroom and risotto and edame salad from May 21 09. Can't wait to try it. Thaks Laurie

Robin Says:


The recipes should be on the Food Network website. Simply type in Robin Miller and then the air date of the show with the recipes you want. They should be there and they're super yummy!

As for the "dirty" comment, I continually wash my hands on the show. Perhaps they edited most of it out. I am a complete germ-phobe in my own kitchen and would never cross-contaminate.

Nancy Says:


I love the show and use many of the recipes..I just wish you could list the nutrtional info for us on the recipes. My family adores the garlic lime chicken recipe and the mexican lasagne that follows it! Thanks for helping busy families keep dinner at the family table where it belongs. I believe the show helps keep families bonded and parents less stressed. Please consider nutritional posts, it can only help us even more!!

Robin Miller Says:


Thanks for the kind words and I'm glad you enjoy the recipes! I would love to put the nutritional information with the recipes (and in my cookbooks), but it's simply not always my decision. I suppose I could "railroad" it through with publishers and perhaps Food Network, but consider this: I am a nutritionist and food writer, meaning I constantly strive to create wholesome dishes that contain a bounty of nutrients while keeping calories, fat, sodium, and trans fats in check. I also try to avoid anything artificial and/or fake! I cook the same way for my family and I never analyze the recipes for nutrient content in my own kitchen. Why? I've been writing healthy recipes for 20 years and I feel confident that my dishes are healthy, satisfying and nutritious! Thanks again for your comments!

Christina Says:


Hi Robin,
I love Quick Fix Meals, and look forward to checking out your newer books. I made the chicken the other night and am thinking about which morph I'm going to make. Alas, my husband doesn't like chickpeas (or BEANS); can you suggest a substitution?
Thank you!

Robin Miller Says:


For the chicken curry, you can easily leave the chickpeas out! You won't miss a thing, trust me. The tomatoes add a nice contrast to the curry flavor. For more ideas, if it you want to make a soup or stew with leftover chicken, and you don't want to add beans, add about ¼ cup of couscous (the larger, Israeli couscous is awesome). That will add nice texture and body! I hope that helps! And be sure to check out "Robin Rescues Dinner", my latest cookbook with 400 recipes and lots of fabulous morphing ideas!!!

Christina Says:


Thanks for the tip; you were right that we didn't even miss them in this recipe. I bet they do add a nice flavor, though!
Thanks again!!

Lee Gilmer Says:


Robin, please push the publisher to include nutritional information. Since my husband and I both have high blood pressure, diabetes and high cholesterol, I will not buy a cook book anymore if it doesn't have it. I used to buy a lot of cookbooks but you don't find that many with nutritional info. I know it takes more time but there are online sights now that will calculate it for you if you enter the recipe. It only takes a few lines to list the basics – cal, sodium, fat, carbs, sugar and protein for each recipe.

Robin Miller Says:


Believe me – I have tried and tried!! Publishers simply don't like to spend the extra time (albeit minimal) to calculate nutritionals for recipes. That takes time and manpower and that means more money. Plus, it takes up more space which means more pages, more money, etc. I've also heard publishers say that it doesn't affect sales of books. I'm sorry to say that, so far, my arm twisting hasn't yielded any results. And that's a true shame because my recipes have awsome nutritionals.

I will continue to push with each new book I write!!

Robin

marjorie forsberg Says:


HI ROBIN I MISS YOUR SHOW ON THE FOODNETWORK CHANELL. I'M LOOKING FOR YOUR RECIPE ON THAT CHILI AND THAN YOU PUT IN A BREAD BOWL. CAN YOU HELP ME OUT. I LOOKED HI&LOW FOR IT
THANK~YOU!
Leave a Comment
Posting Policy
Bite of the Best encourages our readers to comment on and review any products that we write about. Please express your opinions in a mature and civil tone of voice. We will not post rude or otherwise inappropriate material on Bite of the Best. We look forward to your comments and reviews!