CITY EDITIONS
March 7, 2010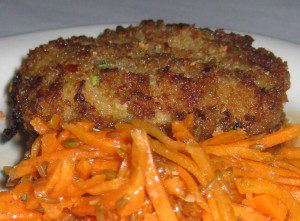 Judy, Judy, Judy… My dinner at Fisherman's Catch would have been so pleasant without experiencing your temper, apparent as you threw my coat onto a chair out of your way, tossing everything secured inside scattered onto the floor and continued with your snide remarks halfway through the meal. You — of course — became more pleasant nearing tip time….
Attitude, my dear, attitude.
Happily Fisherman's Catch offers decent food and live music — we enjoyed the tap-your-foot-to-and-want-to-dance offerings of Brian McGeough the night we were there.
The best deal is their price fix menu at the price of an entree ($23.95). The Maryland crab cake was chock full of crab and served with a cumin-flavored carrot slaw and a caper remoulade.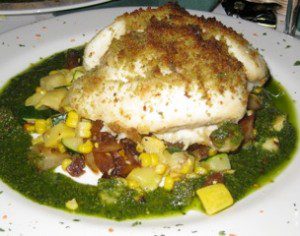 The tender and hearty portion of Walnut-crusted St. Peter's Fish came with a tasty hash of corn, potatoes and zucchini in pesto.
A pleasant place on the water to enjoy fresh fish, just be sure Judy isn't your waitress.
- bonnie
Fisherman's Catch
111 Bayside Drive
Point Lookout, NY 11569-3004
(516) 670-9717
www.fishermanscatchrestaurant.com
15 Comments on "Fisherman's Catch, Good Food, Horrible Waitress"
Samantha Says:


I'm surprised by bonnies comment since my experience with Judy from the Fishermans Catch was the total opposite. Along with the delicious dishes and amazing views, Judy was one of my favorite waitresses. She made our night most enjoyable with her quick wit and charm. I would highly recommend asking for Judy if you want great service.

rsmryval@yahoo.com Says:


I have to say that Bonnie must have been in a bad mood that day because whenever JUDY serves our table, it becomes the better part of the meal. The food is great at Fisherman's Catch and Judy is the icing on the desert!!

NYCRestaurantGeek Says:


hahaha.. The beauty of differing opinions! I guess that's why only 4 out of 5 dentists recommend trident!

Seems we've got a Dr. Judy & Mrs. Hyde situation going on at the Fisherman's Catch… So, will the real Judy please stand up? Whether waitress extraordinaire or apparel throwing sensation, seems like the moral of the story is: Try the crabcakes, just make sure your jacket pockets are zipped up while enjoying!

karen Says:


Is Bonnie sure she was at Fishermans Catch and not some other restaurant. Judy is absolutaley a sweetheart no matter when we have gone there. We always ask for her and are dissapointed when she isn't there. My children ask for her when they go as does my father in law. We even had the party room one time for a Christening, as usuall she was the BEST even with little kids running all over the place.
Last time we went she was on vacation and it just wasn't the same… no offense to the other waitress, the food of course was great, but I personnaly rather go when Judy is working. So Bonnie I think you must have mixed up your restaurants……

SSM Says:


Obviously ms judy has some good friends who should tell her to watch her temper! A waitress shouldn't take out her bad day on customers by throwing things. tsk tsk

Chris Says:


don.t let ms judy deter you from the fishermans catch, the food, view, sunsets and overall service is great. in this case one bad apple does not spoil the whole bunch

john Says:


hi,

we would like to go to fishermans catch by boat…do you know if they have docking?

thanks, john

david heitman Says:


i was in from las vegas on 07/18/10 visting the palazzo's in long beach. it was my wifes birthday. they said they frequent this resturant from time to time and it was good. the sun was setting and it was really nice to be on the outside deck waiting for our table and having a few drinks. they gave us a great seat by the window.
the service was ok. the waitress need a little more training or the bus boy. our food got served while she was takeing someone elses order and the bus boy left the food on a tray and walked away.
i don't care who serves the food but don't let it sit there until someone is ready to serve it and it gets cold.
the food was good/ decent but i'm not going to rave about it.
it was a little over priced. 4 of us $230.00 without a tip? for pasta and a seafood diavlo and an appitizer? i could have been worse being on the water.
i guess that is new york for you.
but over all it was fine / layed back / clean. and you don't have to over dress.
i would deffintly pull up in my 22ft bow rider in levi docker shorts and nice shirt and feel right at home.
don't be a bum everybody. look half way decent and leave those flip flops home. lol.
you can't drive your boat to a resturant in las vegas and hang out on a nice outside deck. so keep it all in perspective. the place was fine. i guess you gotta break your wallet out from time to time.
my wife had a good time so that's what counts.

Patricia Says:


Fisherman's Catch is a great place with good food and good service.
Yes, there's a dock and it can be as dressy or casual as you like.

I've never experienced bad service.

Go, either for a drink in the bar, overlooking the water, or enjoy a great meal.

Samantha Says:


It's amazing how a bad remark about someone cost them their job! I was back to the catch to find that Judy no longer works there. Tsk, tsk a shame for the fishermans catch. I will spread the word on how they treat their employees and will not be visiting there again. There are plenty of wonderful seafood restaurants on long island to enjoy! Judy will be missed.

E.P Says:


Samantha – No one will fire someone for having an off day. You're giving more power to one review than you should. Bet it just brought to light an issue that the restaurant management was already aware of…

Jjorge Says:


I agree with E.P., no one loses thier job over one complaint, I've been the restaurant business for over 35 years in every position and there must be more here than mets the eye

Jjorge Says:


What happened to the steak sand. at fishermans catch? I ordered it the other night thinking I was going to get a sand. of wich I could chew, Guess I'll have to stick to burgers, cause they are excellent.

Barjo McStranko Says:


Nice work getting our beloved Judy fired. Stay out of P.L.O.

nate Says:


You silly person! This author didn't get Judy fired — Judy got herself fired.
The write up must have brought her nasty attitude to the attention of her bosses.
Leave a Comment
Posting Policy
Bite of the Best encourages our readers to comment on and review any products that we write about. Please express your opinions in a mature and civil tone of voice. We will not post rude or otherwise inappropriate material on Bite of the Best. We look forward to your comments and reviews!