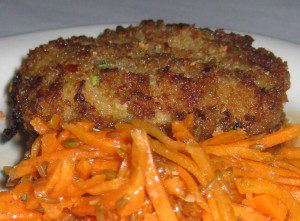 Judy, Judy, Judy… My dinner at Fisherman's Catch would have been so pleasant without experiencing your temper, apparent as you threw my coat onto a chair out of your way, tossing everything secured inside scattered onto the floor and continued with your snide remarks halfway through the meal. You — of course — became more pleasant nearing tip time….
Attitude, my dear, attitude.
Happily Fisherman's Catch offers decent food and live music — we enjoyed the tap-your-foot-to-and-want-to-dance offerings of Brian McGeough the night we were there.
The best deal is their price fix menu at the price of an entree ($23.95). The Maryland crab cake was chock full of crab and served with a cumin-flavored carrot slaw and a caper remoulade.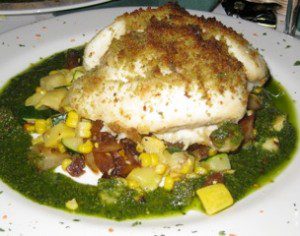 The tender and hearty portion of Walnut-crusted St. Peter's Fish came with a tasty hash of corn, potatoes and zucchini in pesto.
A pleasant place on the water to enjoy fresh fish, just be sure Judy isn't your waitress.
– bonnie
Fisherman's Catch
111 Bayside Drive
Point Lookout, NY 11569-3004
(516) 670-9717
www.fishermanscatchrestaurant.com