Who isn't looking for fresh, tasty and inexpensive meals in Manhattan! I discovered Express Manna Kitchen on 18th street between Park and Broadway. Manna offers delicious Korean foods that you can eat in (at one of the few tables, some communal), take out or — so typical of Manhattanites — have delivered.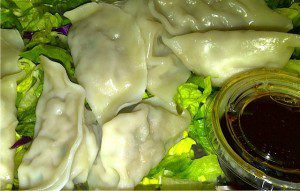 I opted to eat in with some friends so we could try a Korean signature dish served sizzling in a hot stone bowl.
We started with some vegetable dumplings ($4.50) as we ordered lots more.
My favorite — the Jap-Chae — consists of stir-fried cellophane sweet potato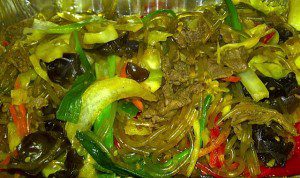 noodles with carrots, black mushrooms, scallions, spinach and cabbage ($7.95), seasoned with soy. This tasty dish is listed as an appetizer, but with the addition of beef or chicken ($1.50 additional) makes a delicious light meal.
The Rock'n Rice (the Bi-Bim-Bab served in the hot stone bowl) combines  seven different veggies, rice, a fried egg and a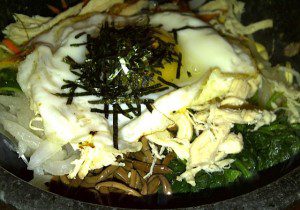 sauce spicy with chili pepper paste ($10.95).  You break the egg yolk and stir together all the fresh ingredients before serving it over rice.
The huge bowl of spicy soup with shredded beef, scallions and egg ($11.95) is another tasty and filling option.
None of these flavorful dishes will break the bank, but all will satisfy.
Express Manna Kitchen
28 East 18th Street
New York, NY 10003
212.228.1067
www.mannakitchen.com