Estela isn't easy to find, but it's well worth the effort.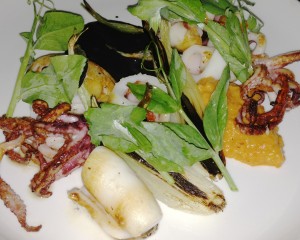 When you go, head up the stairs into the small dark space to sample the unusually amazing combinations put together by chef Ignacio Mattos (formerly of Iso).
When I went recently, I didn't take the servers' advice of how many plates to share. Instead, we were happily satiated sharing three small plates and a bottle of wine.
Specifically, we devoured the fresh oozing burrata with a salsa verde on top of charred bread ($15); grilled calamari with orange sections, charred onions and a romesco (nut and red pepper) sauce ($14), and— my favorite — of a fried egg with gigante beans, shredded cured tuna and spicy harissa ($14). The last dish is an unusually delicious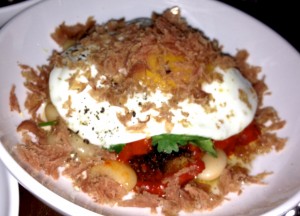 amalgam of flavors and texture so good, I wanted to lick the plate. We washed it all down with a crisp dry reasonable priced white wine: Amizade Godello – Monterrei, Spain 2010 ($28)
Estela won't break the bank, but will give you new friends as you become close buddies with those at the next tables in these very tight quarters.
I recommend it highly.
– bonnie
Estela
Nolita
47 E Houston St
New York, NY 10012
(212) 219-7693