Last time I was in Miami for the South Beach Wine and Food Festival (SOBE), I had been a guest at The Palms. That was before its renovation. So glad I came back to experience the modernization and new spa. Spectacular.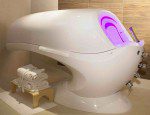 This refin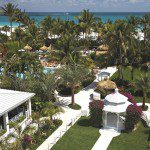 ed hotel is in the heart of Miami Beach on the northern side of South Beach — making all the SOBE events easily walkable on the boardwalk along the Atlantic Ocean.
Just had to sample the Palms signature massage in the new spa. It's a 90-minute treatment starting with a aqua salt scrub, being enclosed in their pod-like HydroCapsule replete with a vichy shower and steam to wash off the salt, followed by a full-body massage. The combination was heavenly — I was completely mellow and relaxed. Good thing I had time before running off to the next SOBE event.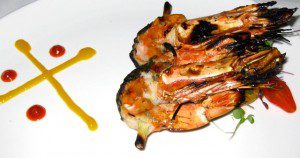 I did make time to sample a few items at Essensia (the hotel restaurant) before running off the the BubbleQ (where I would meet Essensia's chef Frank Jeannetti as he was cooking and serving there!).
At Essensia, I sampled two beginnings typical of their multi-cultural tropical cuisine:  jumbo prawns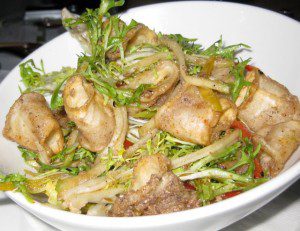 atop micro greens and teardrop tomatoes, with roasted pepper coulis drizzled on the plate ($19); and a hefty portion of blue cornmeal-crusted calamari tossed with frisse, jicama and chayote in a togarashi-lavender honey vinaigrette ($14).
For an entree, I shared only a half-portion of delicate sweet sake-glazed Maine diver scallops in a ginger-carrot sauce along with a parsnip-soybean puree and some haricot verts ($14). After all, I needed to save room as I was heading to the 10th anniversary BubbleQ where I would attempt to sample over 30 chef's barbecue offerings while sipping Perrier-Jouët.
– bonnie
Essensia
The Palms Hotel & Spa
3025 Collins Avenue
Miami Beach,FL33140
800.550.0505
www.thepalmshotel.com