Hell's Kitchen offers many reasonably priced restaurant to stop for a pretheatre b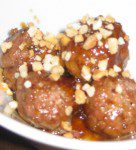 ite, with the Ember Room one of them. We stopped there before seeing the thigh-slapping, toe-tapping Rock of Ages (nominated for five Tony awards)  playing at the Helen Hayes theatre. I recommend that highly!
The Ember Room was still offering New York Restaurant week's 3-course, but their Pre Theatre Menu — also with three courses — caught our eye. Instead of the $35, it was only $22. (The food prices listed are the ala carte ones.)
We opted to ch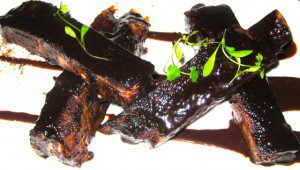 oose from that, which offered the same food in smaller portions. Great for the waistline. We sampled Thai Pastrami Meat Balls ($11 when not on) served with a hot Chinese mustard tamarind glaze. The texture was fine, flavor nothing special so I don't recommend.  I do suggest the meaty, finger-lickin' Chocolate Baby Back ribs with spicy hot chocolate sauce ($11).  Also good were the BBQ Boneless short ribs with Ember Room BBQ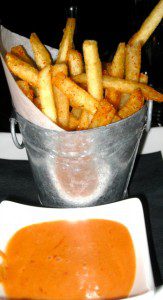 sauce and steamed baby bok choy. Fry lovers should order a side of their 7 – Spice Fries sprinkled with a spicy Togarashi blend ($4) and served with an addicting blend of ketchup, mayo, horseradish, hot sauce and relish (they called it a thousand island dressing).  No need for  ketchup.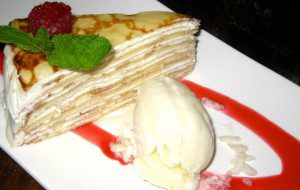 Since dessert came with our three course meal – we opted for the  multi-layer citrus crepe cake,  flavored with meyer lemon, cardamom and  star anise. Was okay, but not worth the calories.
Our libation for the evening was a Villa Maria Sauvignon Blanc from the Marlborough region of New Zealand, which laughingly was more expensive than the two meals combined — but that's often the case with the wine! ($45)
I do suggest the Ember Room for a pretheatre bite.
– bonnie
Ember Room
647 9th Ave (between 45 and 46)
New York, NY 10036
www.emberroom.com
(212) 245-8880
Save