Met some friends at Elizabeth's Cafe in Madison recently. Had great conversations, with good food and service, ableit a bit slow to start.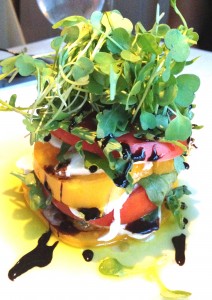 We started with the heirloom tomato Napoleon stacked with mozzarella, baby arugula drizzled with olive oil and a balsamic glaze ($10) and the polenta-crusted fried oysters with celery root remoulade over a BBQ Vinaigrette ($12), We wished there had been more of each.
The one disappointing dish is the avocado roulade with a sliced avocado, micro greens, grape tomatoes ($14) with the menu promising crab and lobster salad. The seafood was so miniscule in quantity, we thought they had forgotten to include it.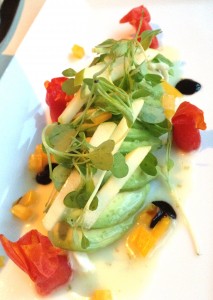 We continued with the house made lemon pappardelle with fresh artichoke hearts, grape tomatoes, asparagus tips and shaved parmesiano reggiano ($19) and the grilled shrimp burrito with peppers, onions, avocado, Monterey Jack cheese, salsa and sour cream ($16). The former was fine, the latter quite tasty.
My friends — dessert lovers — finished off with a fresh peach pie à la mode ($9), while I enjoyed finishing my remaining Mount Nelson 2011 Sauvignon Blanc.
Elizabeth's Cafe and Perfect Parties Catering
885 Boston Post Road
Madison, CT 06443
(203) 245-0250