Something about El Cantinero's kitschy South-of-the-Border decor on University place kept calling me in. I finally tried it one summer night on my way to seeing the lavish production of "The Great Gatsy."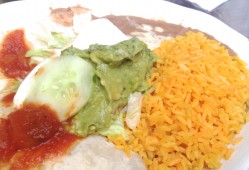 We sat outside (always a plus) on the second floor enclosed rooftop, so that we could enjoy the weather without the street noises and fumes. That is the best part of this restaurant other than the plentiful warm tortilla chips and salsa containing fresh cilantor.
To say the food is mediocre is being kind. It's almost edible. We tried bland warmed quesadillas – one with cheese, the other with veggies and cheese ($11.95).  I like the tortillas in quesadillas broiled or sauteed to crisp. These were not, they were served with ordinary rice and re-fried beans screaming for salt, topped with sour cream and "freshly made" guacamole. Problem is to El Cantinero 12 hours ago (first thing in the morning) is fresh!
The quality of the food and knowledge of the happy hour (with $4 margaritas plus free nibbles and music) says this is a place for tight budget college students. Skip it otherwise.
– bonnie
El Cantinero, NYC
86 University Place
(between 11th and 12th, Greenwich Village )
New York, NY 1003
212.255.9378
www.elcantineronyc.com