Ed's Chowder House in the Empire Hotel is ideally located if you're heading to Lincoln Center. That two-minute walk was welcomed on the cold winter blustery day that we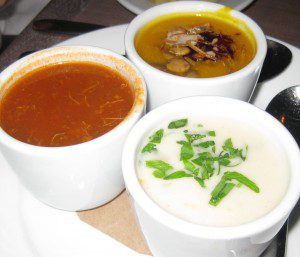 attended the New York City Ballet's performance of "A Midsummer Night's Dream" in the David H. Koch Theater.
But first a quick bite at Ed's Chowder House. Ed is Ed Brown —chef/owner of Michelin Star-rated restaurant eighty one and formerly from the Sea Grill at Rockefeller Center. He's created an upscale seafood shack.
We started with his trio of chowder sampler ($12) with a creamy, but not overly rich New England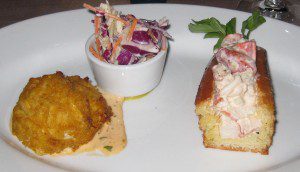 style, a butternut winter squash one topped with pepitas and —my favorite — a Manhattan style blue crab.
My recommendation: the jumbo lump crab cakes with a spicy remoulade sauce with house slaw ($29) or the not-too-mayonnaisey lobster roll, also with house slaw ($26).  Since they overheard we had planned to split the two composed mains, the waitstaff kindly did so for us in the kitchen.
The crisp citrusy Chenin Blanc, Foxen Wickenden, Santa Maria. CA ($45) was a nice match for each dish.
Not time for dessert as the ballet was beckoning.
Everything was beautiful at the ballet. Graceful men did lift lovely girls not in white, but in multi-colored costumes — paraphrasing from A Chorus Line, that is. Same goes for the newly renovated theater.
Choreographer George Balanchine's  A Midsummer's Nights Dream ballet is based on the Shakespearean comedy about the romantic adventures of two pairs of mortal lovers and the King and Queen of Fairies.  I couldn't follow the story — one that I was familiar with from seeing the play many a time — but so enjoyed the dancing and dancers— especially in the second act.
I'm reluctant to admit that it's been more than a decade since I've been to the New York City Ballet and that was  to see a holiday performance of the Nutcracker. Attending A Midsummer's Nights Dream whet my appetite for more dance. Currently the Sleeping Beauty (through February 7th), then Swan Lake (from February 10 – 14) and Jewels (from February 25 – 28).
I hope to return soon …
– bonnie