Eating Greenwich & Port Chester  — which runs Sunday, March 3 through Thursday March 7 — offers consumers specially discounted prices on prix fixe menus plus other special offers throughout the week at participating Greenwich and Port Chester restaurants.
Unlike the typical "restaurant week," Eating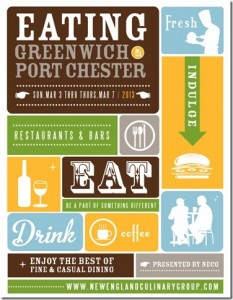 Greenwich & Port Chester  includes prix fixe menus and an array of fun offers. The prix fixe menus are  lunch $12.13, dinner $20.13, for mid-range restaurants; lunch $18.13, dinner $30.13 for high-end ones.
In addition there is a bounce back incentive, KEEP EATING. Customers who dine at any participating restaurant during Eating Greenwich & Port Chester week will receive a 20% off gift certificate to be used at any participating restaurant from March 10-27, 2013, valid Sunday-Wednesday only.
For additional information including a list of the participating restaurants, click here.
– guest contributor