I had one of the worst meals of my life at East by Northeast. I'm sharing this review only to warn you.
We opted for their prix fix meal ($25 for three courses) as both entrees we were interested in were on that menu.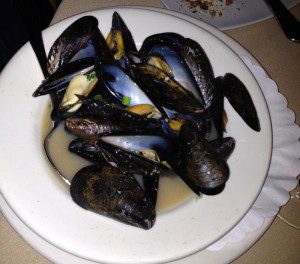 The starter consisted of three tastings: a perfunctory edamame dumpling, a demitasse cup of tomato soup and ceviche so past its prime it bubbled with rancidity.
The next course wasn't much better. My dining partner ate only two of the not-fresh mussels served in murky water, my Caesar salad was better but served warm.
Normally I would have asked for management, but no one but the non-native English speaking stopped by to clear or serve.
Our entrees of the three duck tacos and the seared cod with asparagus succotash in a "champagne" vinaigrette butter were equally inedible. We took one bite and left the rest. Truly horrid.
Thank goodness for our Sepp Moser Gruner Veltiner from the Kremsal — that made the evening bearable.
East by Northeast is located on Fort Pond, I suggest you stop by for only a drink and the truly spectacular view of the sunset in Montauk. Skip the horrid food.
East by NorthEast
51 Edgemere Street Montauk, NY 11954
Cross Street: Rt 27
(631) 668-2872