While wandering a street fare in Westville on a perfect spring day, we stopped into Delaney's Restaurant & Taproom for a nibble as they offered alfresco dining.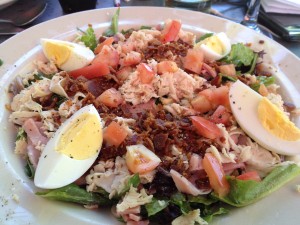 Craving greens, I decided to sample the chef salad ($10.95) with chopped Black Forest ham, bacon and not-yet-summer tomatoes, hard-cooked egg wedges, bacon, and r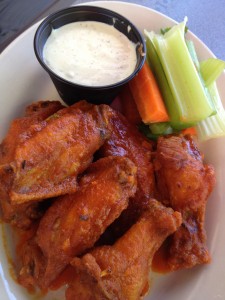 omaine lightly tossed in  house made Ranch dressing. Oddly, the small portion begged for both more greens and more dressing (the latter is something I never say…as I like all my salads lightly dressed.). Since my friend didn't eat the blue cheese dressing that came with the spicy, meaty buffalo wings (6 for $4.95), I used a tad of that on the salad. It was so good that I'd suggest Delaney's offer the blue cheese dressing as an option for the chopped chef salad.
– bonnie

Delaney's Restaurant & Taproom
882 Whalley Ave
New Haven, CT 06515
(203) 397-5494