I recently dined at David Burke Kitchen in SoHo (New York) with a group of friends who were in town for the IACP (International Association of Culinary Professionals) conference in the city.
The waiter placed a bread basket filled with carrots, dense crusty bread and homemade crisp pretzels on the table as we perused the manu. Little did I know that was one of the best things I'd be eating that evening.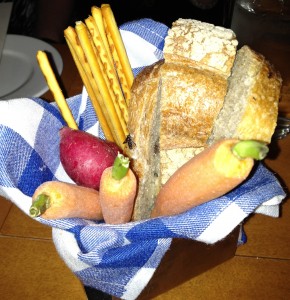 The table of eight food professions started with tuna tartare tacos with whipped avocado and tobiko caviar ($8) and oddly textured maple bacon sticks with peanut butter ($8).
Having nibbled at our event, we only ordered appetizers in addition to that (and of course, desserts). I shared the signature pretzel crab cakes with a mustard glaze, Boston beer foam and a pepper marmalade ($19). The crab cakes themselves were worth it, made with little filler, mostly moist flavorful crab. But the pretzel stick topping was soggy and odd, making us wonder why the  it were even there.
The Angry Octopus ($16) pieces were not very tender but were served with flavorful white beans, with lemon and basil.  We also ordered  sides ($7 each):  Brussels Sprouts and Bacon –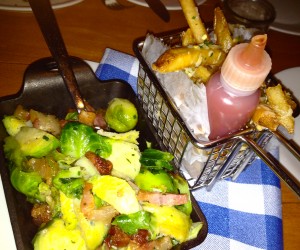 which was the tastiest thing all night and french fries cooked in smoked beef fat and served with jalapeno slices. Disappointing, is an understatement, as the fries were soggy. Yes, soggy — with few jalapenos. Three orders came to the table for eight people, and three half-filled baskets were left. Quite bizarre for any fries!
What David Burke Kitchen does best are the desserts, leaving you with a smile on your face. The frozen peanut butter candy bar is rich and decadent with its fudge brownie, salted caramel and honey-roasted peanuts ($12). Also tasty is the Breckenridge bourbon banana bread pudding topped with honey cream and malted milk ice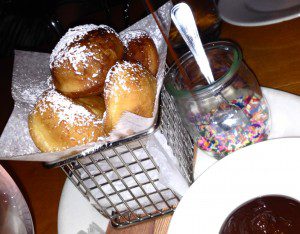 cream ($12). But the stow-stopper was the Boston Cream Donuts ($12), a basket of mouth-sized confectioner's sugar topped donuts served with goodies to make them even more hedonistic: cream in a pastry bag for filling, chocolate for dipping and sprinkles for decorating.
– bonnie

David Burke Kitchen
23 Grand St
New York, NY 10013
(212) 201-9119
davidburkekitchen.com