One Sunday recently, I stopped by David Burke Fishtail historic bi-level restaurant, being seated on the main, second floor dining room. If you go, plan on a very leisurely meal as service is slow.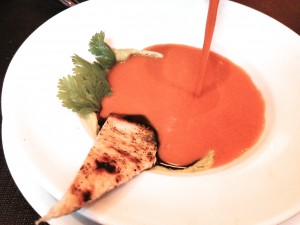 This being my rosé summer, I order the a full-bodied 2011 Domaine Gueneau Sancerre La Guiberte, Loire, France as we considered the menu options. Yes, Sancerre, in addition to being offered in red, is also available as a rosé.
On Sunday nites, Fishtail offers a Lobster Louie menu in addition to their regular one, with a $45 prix fixe meal offering a lobster appetizer, lobster entree and a dessert. As their guest, I sampled more than just those offerings including a fabulous watermelon-tomato gazpacho, poured into an avocado-puree, chile oil garnished plate. Luckily the soup is a cold one, as it was served sans spoons. We needed to flag down a server to bring us some so we could enjoy it. If that gazpacho is offered as a menu special, do not miss it!
The creamy Lobster bisque (part of the Lobster Louie menu) comes with two lobster and chèvre filled dumplings with a lobster claw "handle" in a Moroccan-flavored glazed.  Those delectable
dumplings come as a four-piece appetizer on their own, which is what I'd recommend.
The unusual angry calamari is blended with mostly white beans, some chorizo and lots of garlic is not as spicy as the name suggests ($16). For something light and refreshing, try the burrata, watermelon and asparagus salad ($17) with prosciutto.
The appetizer not to be missed is the oddly named warm grilled octopus ceviche. (Obviously since it's warm and grilled it's not raw octopus!)  The piled high dish has mandarin oranges and citrus zest in the light Asian-flavored citrus sauce all garnished with a crisp lotus chips ($17).
Roasted pork belly over creamed corn with heirloom tomato jam was another night's special that we sampled. Worth trying if offered.
The steak, dry-aged in their Himalayan salt blocks, was seared on the outside, red and juicy inside as ordered, a top a raf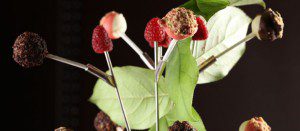 t of grilled asparagus. The tender and moist meat also comes with a serving of  fries. The lobster — like the calamari — wasn't as angry (AKA spicy) as the name suggested, but was just fine still in its shell rubbed with David Burke's 5-spice mixture of paprika, chile pepper and more .
The chef also sent out their signature cheesecake tree for two with chocolate-dipped cheesecake lollipops and strawberries with a side of bubble gum whipped cream ($18).
– bonnie
Follow @BonnieBOTB

David Burke Fishtale
Upper East Side
135 E 62nd St
New York, NY 10065
(212) 754-1300