"Dining in pitch black?" I asked when a friend invited me to join a group heading to the recently opened Dans le Noir? in Manhattan.  Odd concept to not see what you're eating, I thought, but I accepted as I'm always up for something new and for partying with friends.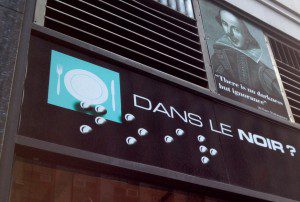 First we selected one of four menus:  the one for fish and seafood lovers (blue),  meat lovers (red), the adventurous one — as it is the chef's choice — (white) or the safe vegetarian (green).
We had to secure our belongings (pocketbooks, iPhones, Blackberries, etc) in a locker to ensure that we didn't bring any light source into the dining room. We met in the bar area and signed a detailed waiver while enjoying cocktails and then lined up with one hand on the person's shoulder in front to be led into the dining room. One glitch — that may have been fixed by now — as we lined up the staff scurried to change each of our glasses to plastic ones and to give the beer bottles rubber cozies as a preventative as we were about to walk into darkness.  We were then led — and served — by a blind waitress, as one of the goals of Dans le Noir? is to raise awareness of those visually handicapped.
As we entered the darkness, we slid our feet along the floor not wanting to trip on anything until our waitress positioned each of us in front of a seat at our table. We felt around to locate our utensils and water plastic glass, then learned how to fill it (keep a finger in the cup to feel the water level).
My eyes hurt as they kept struggling to adjust. I was sure the spec of light I saw across the table was imagined, instead it was a glow-in-the-dark dot on my friend's watch that I'd look at it periodically for grounding.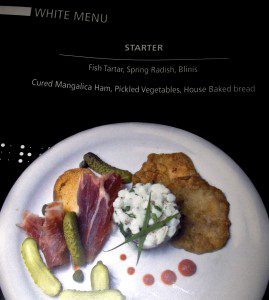 When our first course arrived, we each felt for our utensils and then realized it was much easier to find the food and eat with our hands! Oddly without the sense of sight, our other senses needed to work harder. I was given a bite from a seafood plate, recognized the taste, but without a visual it took me almost 5 minutes to flip through my taste memories and identify it as soft shell crab.  That was easier to ID than my appetizer, which I learned later when we saw the menu that my plate consisted of fish tartar, spring radish blinis, cured mangalica ham, pickled vegetables and house baked bread. The latter two were the easiest to identify.
We ordered a bottle of Sancerre to accompany our meal as we knew we had mastered liquid pouring by then. Sadly our blind waiter didn't know where we had placed the bottle and knocked it over.
Frustratingly, I didn't recognize much on my main dish. The "meat" was a very rare seared breast of squab that I found too raw to eat. Its herbed gravy seemed unnecessarily messy. Better were the sunchoke puree, chayote squash and a merguez sausage cassoulet with braised garlic and escarole. The messy-to-eat dessert included a spiced bread pudding, panna cotta and easily recognizable mango mousse.
After dinner, which was completed much more quickly than usual, we were led out as we were led in, hand on the shoulder ahead until we emerged from behind the dark curtains elated to again see the light.
I highly suggest dining here with a group of friends as it's a fun (and somewhat frustrating) evening that leaves you with an appreciation for those less fortunate who never emerge from the darkness.
For me once was enough as I  much prefer dining first with my eyes, and then with my fork.
– bonnie
Dans Le Noir
246 West 38th Street
New York, NY 10018
212.575.1671