I discovered Daniela's online when looking for something close to the Samuel J Friedman Theatre where I saw the talented Laurie Metcalf starring in the just-closed, The Other Place, a powerful one-act play by Sharr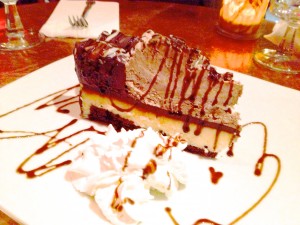 i White.
Daniela's is a small cozy family-run Italian bistro in the heart of the theatre district offering a $29-prix fixe  meal with a salad, a pasta or chicken entree, dessert and coffee. Quite a bargain.
We started with the tre calori, a lightly dressed salad with arugula, radicchio and endive. Next we had the house made rigatoni bolognese (with fresh tomato and meat sauce with a touch of cream) and the delicate, tender chicken piccata with white wine lemon and capers.
We ordered dessert as it was part of the deal, and so glad we did as we chose the chocolate vesuvius,  a decadent chocolate cheesecake.
A perfect pre-theatre place – affordable and tasty!
Daniela's
728 Eighth Avenue
New York, NY 10036
(212) 869-3585