All the reviews raved about the BBQ at Daisy May's barbecue joint in Hell's Kitchen, so my mouth was watering as I entered this tiny storefront.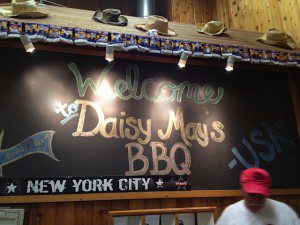 Food is served cafeteria style from the front. The eating area in the back has three long and one small communal tables and a couple of counter seats.
Perhaps it was an off night, but I wouldn't recommend anything we ordered. The meat in the Texas sliced beef brisket sandwich with pickles and onions ($12.90) was tender but served on a stale bun needing warm sauce. Same with the meat in the Carolina pulled pork sandwich ($11.50) – it  was also served at room temperature again not much sauce.  It was topped with a little creamy cole slaw … I expected the North Carolina pulled pork sandwiches to come with a vinegary, not creamy, cole slaw. Both sandwiches were quite mediocre.
Also disappointing were the fixin's.  Oddly, the goopy baked beans with burnt ends had no flavor even when I sprinkled on the salt it lacked.  The Bourbon peaches were flavorful, but the texture made us think the fruit had been on the steam table for days.
Some may say I should go back for the ribs. I'll pass, being burnt once is enough.
– bonnie


Daisy May's BBQ USA
623 11th Ave
New York, NY 10036
(212) 977-1500
Hell's Kitchen
daisymaysbbq.com/news.html