FEATURED BITE
February 5, 2013
A friend raved about a curried chicken and veggies dish that she had made that week and sent me the recipe. I  — of course — edited it to my taste and invited some friends over to enjoy it with me.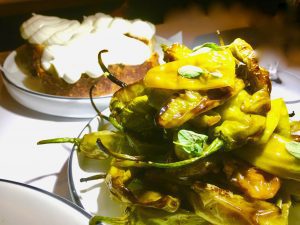 It's a one-dish simple to prepare entree, heavy on the veggies. Basically, you toss your chopped veggies with some oil, salt and pepper, then spread them on a rimmed baking sheet and roast.
Then, you toss the boneless chicken thighs with some yogurt, oil, ginger, garlic and curry powder, place the chicken a top the partially baked veggies and bake!
Curried Pan-Roasted Chicken and Veggies
½ pound sliced mushrooms
1 pound butternut squash in 1-inch cubes (from a 1 1/4 pound squash)
1 1/2 pounds Brussels sprouts, trimmed and halved
1 large red onion, cut into thin wedges
1/2 cup olive oil
Salt and freshly ground pepper
1 cup plain fat-free Greek yogurt, plus optional more for serving
1 1/2 teaspoons minced fresh ginger
2 large garlic cloves, minced
1 tablespoon Madras curry powder
2 pounds skinless, boneless chicken thighs
Warm naan, for serving (optional)
Preheat the oven to 450° with the rack in the middle of the oven.
In a large bowl, toss the mushrooms, butternut squash, Brussels sprouts, onion wedges and 1/4 cup oil; ; season with salt and pepper. Spread the vegetables on a large,  rimmed baking sheet. Roast for 20 minutes.
Meanwhile combine 1/2 cup yogurt, the ginger, garlic, curry powder and 1/4 cup oil in the bowl you used for the vegetables; season with salt and pepper. Add the chicken and toss to coat. Arrange the chicken on top of the vegetables.
Roast for 15 minutes. Pour off and discard any accumulated liquid in the pan (if there is any); continue to roast for an additional 15 minutes until the vegetables are tender and the chicken is lightly browned and cooked through. Check the internal temperature of the thickest part of the thigh with a meat thermometer. It should be 165 degrees F.
If desired, serve with warm naan and additional yogurt.
Makes 6 to 8 servings
2 Comments on "Curried Pan-Roasted Chicken and Veggies"
Patty Says:


I made this recipe the other night and it was really yummy–also quick and easy. I loved the healthy combination of the roasted veggies and the juicy, spice-infused chicken thighs. Since I had cauliflower and parsnips in the fridge, I used those instead of the Brussels sprouts and butternut squash. Not as colorful but very tasty just the same.

Bonnie from BiteoftheBest.com Says:


Great idea to just use the roast-able veggies you have on hand!
Rate This Product
Mouseover the crowns to highlight your rating and then click to record your rating. The rating shown is the average of all the user votes. You can only rate each product once.
Leave a Comment or Write a Review
Posting Policy
Bite of the Best encourages our readers to comment on and review any products that we write about. Please express your opinions in a mature and civil tone of voice. We will not post rude or otherwise inappropriate material on Bite of the Best. We look forward to your comments and reviews!