Cuba Libre, a themed restaurant designed to bring to mind Havana through both decor and food, had four locations around the country with more to come. I sampled their delicious Latin-flavored dishes at the Atlantic City location in what's called the quarter at the Tropicana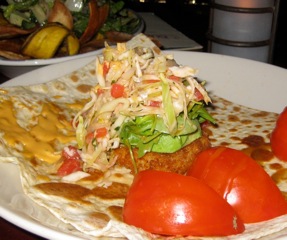 Casino and Resort at lunch.
Since they specialize in rum — offering over 75 varieties — how could we not their with their Primo Mojito Cuba Libre ($10), made with Flor de Cana Grand Reserva rum, hierba buena (a Cuban herb similar to mint), guarapo (fresh sugar cane juice), fresh lime juice, splash of soda? Refreshingly good.
We began with at tasting of two piqueos (small plates, $12): Guacamole Cubano (avocado, golden pineapple and fresh lime juice topped with crispy plantain chips.  Cesar de Oriente (a crispy spring roll filled with tender braised short rib of beef served with a salad of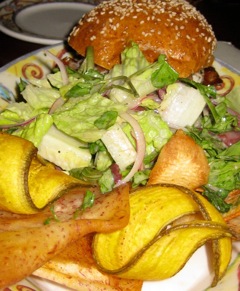 shredded romaine, Cotija cheese in a roasted garlic Caesar dressing).
A restaurant and one of my favorites is the Dorado Varadero : Crispy Mahi-Mahi, avocado, heirloom tomatoes, arugula and Vigoron slaw  (a Nicarauguan slaw) on grilled flat bread with both a cumin-orange vinaigrette and chipotle mayonnaise ($14).
Also finger-licking good is the Guava BBQ Rib Sandwich, filled with  shredded guava BBQ rib meat, Vigoron slaw on a toasted sesame brioche roll and served with salad and tropical chips ($13). The meat is made with St. Louis-cut pork ribs, that are slow-cooked and  glazed with spicy guava barbecue sauce.
Worth a respite from the Casino!
– bonnie
Cuba Libre at Tropicana Casino and Resort
Atlantic City, NJ 08401
609.348.6700
(Other locations in Philadelphia, Orlando and Washington, D.C.)