A friend and I walked across the 59th Street Bridge and literally just turned left onto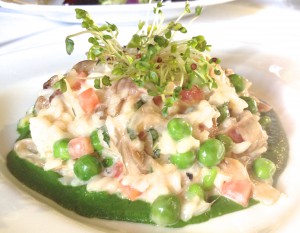 Crescent Street to walk to and sample Crescent Grill's farm-to-table fare in Long Island City.
After the short walk, we tried the bartender's Sriracharita. Don't miss this spicy variation on a margarita made with Avion Anejo Tequila, Grand Marnier, Triple Sec, fresh lemon juice, simple syrup and Sriracha served in a salt rimmed glass ($14).
As their guest, I sampled a few starters. I liked the simple salad with black mission figs with frisee and aged goat cheese in a light vinaigrette ($13). An interesting preparation is the wild boar tenderloin slices  interspersed with three colors of fresh cauliflower, some braised baby romaine and drizzled topped with a ginger béarnaise. The boar was a bit tough, but the rest of the dish was perfection($14). Not to be missed is the creamy ethereal English pea risotto with shreds of duck confit, freshly cooked b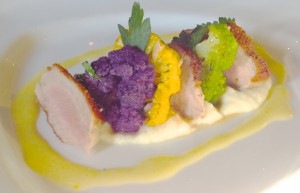 lue foot mushrooms and lots of Parmigiano-Reggiano ($13) – worth the trip alone.
The seared wild striped bass arrives in an olive oil ($29) bath with artichokes, mushrooms, fingerling potatoes, niçoise olives and tomatoes. Good for those looking for something light.
Since they buy the whole carcass, the owners told me that the meat in the lamb duo changes, although it always has a chop. The day I was there we had a chop over a mound of shredded fresh veggies plus braised, then pan-fried, shoulder (that was a tad tough) over sunchoke purée, braised veggies, topped with rosemary jus and dotted with rhubarb ($31).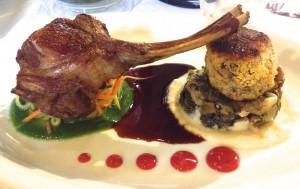 We also tried their perfectly cooked fries — crisp on the outside, soft inside — and the watery lobster mac and cheese ($10) with so little lobster, we had to hunt for it.
Desserts I tried include a chocolate pistachio dome served with an amaretto gelée & pistachio ice cream and an almond mousseline raspberry tart served with raspberry sauce & vanilla ice cream.
If you want to walk the 59th Street bridge, you can get on to the pedestrian portion of the it at the SW corner of 60th and First.
Crescent Grill offers a car service, to take you back to the bridge or anywhere on Roosevelt Island or in Astoria or Long Island City. Nice touch.
– bonnie
Crescent Grill
Long Island City
38-40 Crescent Street
Long Island City, NY 11101
718.729.4040