We stopped into Community Table in McMinnville for breakfast one morning. I had learned that owner Scott Cunningham offers fresh local ingredients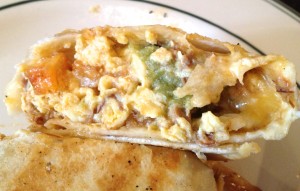 so he can supporting area growers, farmers and artisans that chef Jesse Kincheloe turns into housemade offerings.
It's the type of place where you order at the counter and wait for your name to be called. If desired, you can eat at communal tables to meet some locals. While awaiting your breakfast  — ordered either from the printed menu or the blackboard daily quiche or scramble special — you serve yourself the rich Stumptown coffee and gather your utensils.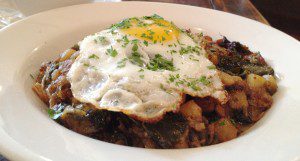 We opted for a breakfast burrito ($8) filled with pulled pork, potatoes, fresh salsa verde and an egg — ordering Talia's duck egg added $1. Our other breakfast was the flavorful Heritage pork hash ($9) over sauteed green and caramelized onions, topped with a fried egg.
Another worth-the-visit, not-break-the-bank meal in McMinnville.
– bonnie
Community Plate
NE 3rd St 97128
(503) 687-1902