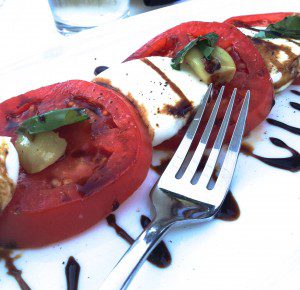 Campagnolo in Midtown is a hidden gem at the corner of 10th and Piedmont. It's perfect  for outdoor dining weather— other than the noise from the bar next door.
We started with a caprese salad with fresh flavorful tomato slices, mozzarella, basil leaves and roasted garlic cloves all drizzled with balsamic vinegar ($8).
Next we shared their Lasagna Matta with pasta layers interspersed with beef Bolognese, bechamel sauce, more mozzarella and parmesan ($15); and the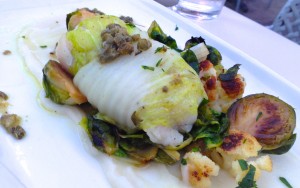 disappointingly flavorless Alaskan Cod wrapped in cabbage with roasted cauliflower, cauliflower puree, Brussels sprout leaves and charred leeks ($17).  As lovers of the mini cabbages, we added an extra order of Brussels sprouts charred with butter and olive oil ($5). Those were delish!
For dessert we shared a  buttermilk & rosemary Panna Cotta – the Italian gelatin-like dessert — in a pool of  red grapefruit coulis and the chocolate bread pudding with an espresso-creme sauce drizzled with salty caramel sauce ($7 each).  For sure, worth the visit.
Campagnolo
980 Piedmont Ave NE
Atlanta, GA 30309
(404) 343-2446
peasantatl.com