Café Tallulah, a new French bistro and lounge on the Upper West Side is purported to have the longest bar on Upper West Side. An odd claim to fame, I thought.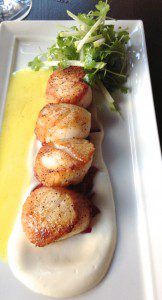 Not odd were the melange of fresh flavors in the appetizers that I sampled as their guest that evening. I do recommend the four succulent scallops atop cauliflower puree and red onion confit in a puddle of warm curry vinaigrette, served with side of apple and watercress salad. Refreshingly good are the fresh chunks off ripe watermelon over slices of heirloom tomatoes with crumbled fresh feta and fresh basil.
The flavor blend of the tuna tartare worked, but not the tuna itself as it was  flavorless. But over Kirby cucumber slices, topped with a ripe avocado puree with red chili aïoli and pickled jalapeños ($15), I would recommend it.
We washed that all down with the rich, slightly sweet and flowerly (but not overly so) Chassagne-Montrachet 1er Cru ($103) Chenevottes Jean-Marc
Morey. A nice match to all our foods.
The bouillabaisse consisted of a bowl of succulent seafood including shrimp bathed in Pernod and saffron-flavored broth and served with rouille for an authentic taste of Marseilles ($25). Also good were the gooey, oozing of cheese, Parisian Gnocchi ($21) with lobster chunks, corn, tomatoes and basil, all topped with cheese.
I also recommend the crisp-skin pan roasted Branzino over flavorful Moroccan spiced cous cous, with frisée side of chick peas, fava beans, chili peppers black olives and a Romesco sauce ($24). And, who could resist their amazing truffle fries and the oozing polenta and chick pea fries?
Although we were stuffed (with doggie bags of the above), we indulged in two dessert.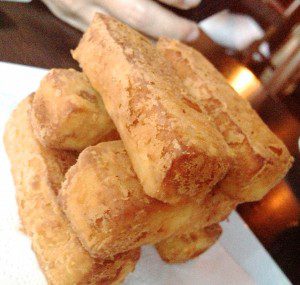 My favorite is the flourless chocolate cake, a fudge-like creation over a strawberry compote and topped with vanilla ice cream and crème anglaise ($12). Not as good was the fresh peach cobbler with rosemary brown butter crumble and creme fraiche ice cream ($12). Disappointing as the peaches were not sweet at the height of peach season when we dined!
I do recommend! And if you're in a "club" mood, you might visit the downstairs lounge open Thursdays to Saturday evenings.
– bonnie
Cafe Tallulah
240 Columbus Ave
New York, NY 10023
(212) 209-1055
cafetallulah.com/‎