Cafe Loup is a neighborhood French bistro in the West Village — a casual place to try where the noise level is moderate, allowing you to have conversation.
My only disappointment was the Salade Lyonnaise with Belgian endives and golden and red heirloom be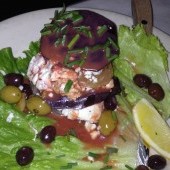 ets tossed in a roquefort dressing and garnished a warm poached egg. Since my friend is a sometimes vegetarian, we requested the crispy diced bacon lardons on the side ($15.50).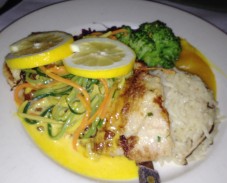 Loving beets, we also had the flavorful Napoleon De Betteraves Et Chevre Frais, Vinaigrette D' Orange Sanguine — the delightful layered red and gold heirloom beets and fresh goat cheese appetizer with a blood orange vinaigrette ($12).
We also enjoyed a perfectly cooked Fillet De Sole, Sauce Au Saffron – lightly sauteed flounder with julienned vegetable in a roast garlic-saffron beurre blanc with sticky rice ($22.50), and washed it down with a light Cotes du Rhone 2012 ($29) Reserve Saint Martin from Southwest France.
I do recommend Cafe Loup.
– bonnie
Cafe Loup
105 West 13th Street
New York, NY 10011
212.255-4746