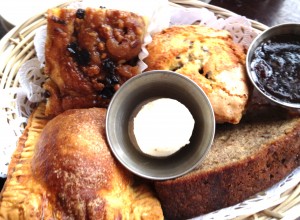 When I asked some Brooklynites where to get a brunch in DUMBO after a stroll across the Brooklyn Bridge, I was told Bubby's.
I'm amazed the place is in business with the lackadaisical staff who had people waiting for an hour, with many visible empty tables.  I'll bet management was off the morning we were there.
One seated, service was fine. I recommend the basket of house made pastries ($10) with a farmers' market fresh blueberry corn muffin, sticky bun, local strawberry turnover with a crispy pastry crust, nutty banana bread all served with organic butter and house made strawberry preserves.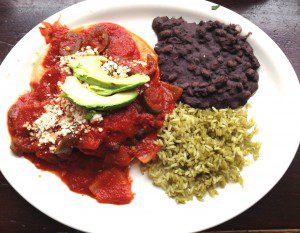 The menu described the  griddle special with two sour dough or sour cream pancakes, two any style eggs, house made sausage and Philly-style scrapple, but the order arrived with only one pancake ($16).
The huevos rancheros ($17) were mediocre at best, with poached eggs over corn tortillas, topped with ranchero sauce screaming for seasoning. The sauce contained so many huge chucks of almost raw onion that a 3-inch high pile  remained on my plate. The fresh avocado slices and cotija cheese that topped the sauce were the best part of the dish. The black beans were fine, with the green rice dry and crunchy. Not something I'd recommend.
I would though recommend the horseradish-spiced bloody Mary's ($12). Like many places in Brooklyn, Bubby's is cash only.
– bonnie
Bubby's Brooklyn
1 Main St
Brooklyn, NY 11201
(718) 222-0666
www.bubbys.com
The locale is lovely