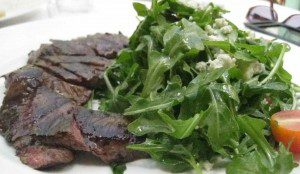 When the weather finally breaks, everyone in Manhattan tries to enjoy a meal al fresco. I was no different. I headed with a friend to Bryan Park Grill. Forty-five minute wait unless we opted for the rooftop terrace. We did.
Although the water was served in plastic glasses and the "bar" was out of the wine we wanted, the setting was perfection: a view of the newly planted green area of Bryant Park and everyone else sitting on park benches with their take out.
We split a  Grilled Skirt Steak ($25.50) and arugula salad. Yummy but funny it had a mere two  split cherry tomatoes some crumbled blue cheese and was tossed with a shallot vinaigrette. The fish tacos ($15.50) with some guacamole, shredded cabbage, and a plastic dish of spicy hot red and green salsas was tasty too (although didn't look very appetizing).
Prices at the rooftop grill are less than downstairs at the grill, and you get to dine alfresco without the crowds. I do recommend it for a nice-weather day in the big apple.
Bryant Park Grill
25 W 40th St
New York, NY 10018
(212) 840-6500
www.arkrestaurants.com