I met a friend for a drink at the Bryant Park Grill at the southwest corner of Bryant Park.  We had just planned to have a glass of wine, but …. hunger hit.
I had a glass of the crisp Martin Codaz, Albarino, Rias Baixas, Spain, 2011 ($11), the friend, the citrusy New Harbor Sauvignon Blanc, Marlborough, New Zealand, 2011 ($11).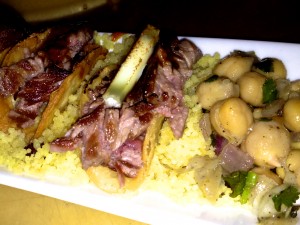 Then we shared perfectly grilled and unadulterated asparagus ($6.50)  and an appetizer plate of Moroccan Lamb Tacos with three small but tasty mini tacos each topped with an aged goat cheese baton served on a bed of couscous, with minted chickpeas, a sweet salsa and diced avocado ($13.50).
Food good, bartender even better, so a good place to meet for a drink.
Bryant Park Grill
25 W 40th St
New York, NY 10018
(212) 840-6500
www.arkrestaurants.com