CITY EDITIONS
May 2, 2010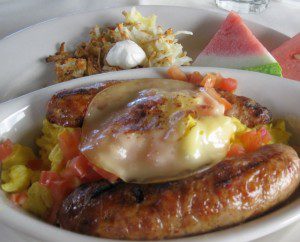 Dining by the water is a perk of living in Connecticut — one that I take advantage of as often as possible. So when friends wanted to meet for brunch one spring Sunday – we opted for Sage American Bar & Grill in New Haven harbor.
We started with spicy bloody Mary's ($5.95) as we gazed at the sun glimmering off the sound through the window. I had their version of Scottish Eggs – a hearty portion of grilled chicken sausage atop scrambled eggs, topped with a bit of cheese served with fresh fruit and potatoes.
A light simple Sunday breakfast served by smiling waiters, making it a pleasant way to end a lazy weekend.
2 Comments on "Brunch at Sage American Bar & Grill"
Anne Says:


We have been going to the Sage restaurant for years. It's been our place for all our special occasions. Sage was special to us! My son went to The Sound School next door. Sadly it has been going down hill. Each time we go back we hope it will be better but its worse. The last straw is when I got violently ill from a meal I was served last night on Easter Sunday. Before calling I ruled out the possibility of everything I had consumed previously. I called and spoke with Amy. She spoke to me in a rude and condescending manner. Talking over me and not even letting me speak a full sentence. As I write this I am still extremely ill from food poisoning. Amy has no concern for me or others, or the health of someone's elderly parent. I told her I was concerned for the next person that eats whatever it was that made me sick. She was not! She would not answer my questions and she blamed the ingredients of the food I ordered, then she ended the phone call. Very disappointed! We will not be back!! Now looking for a new place to celebrate family and friends. This is absolutely not the place. Sadly I think the manager Amy could have made me feel somewhat different if she cared. Honestly not enough to eat there again! I asked her was it going to take someone ending up in the hospital or possibly dieing for her to be concerned.

Carol Says:


There is nothing better than the food at Sage American Bar and Grill. The menu has a wide variety of choices; so if you're there for a meal of just having appetizers, or choosing from their choice of entries you will be very happy with the quality of food. Some of my favorites are the blackened salmon or the grilled swordfish . . .not to mention their wonderful prime rib. . . .undoubtly the best prime rib in New Haven. The atmosphere of Sage is absolutely beautiful . . .with the view of long island sound. Even in the winter months the water view is outstanding and comfortable. This is my favorite restaurant.
Leave a Comment
Posting Policy
Bite of the Best encourages our readers to comment on and review any products that we write about. Please express your opinions in a mature and civil tone of voice. We will not post rude or otherwise inappropriate material on Bite of the Best. We look forward to your comments and reviews!