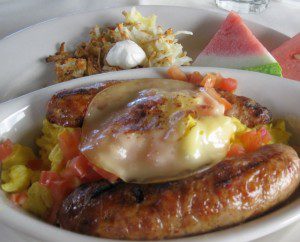 Dining by the water is a perk of living in Connecticut — one that I take advantage of as often as possible. So when friends wanted to meet for brunch one spring Sunday – we opted for Sage American Bar & Grill in New Haven harbor.
We started with spicy bloody Mary's ($5.95) as we gazed at the sun glimmering off the sound through the window. I had their version of Scottish Eggs – a hearty portion of grilled chicken sausage atop scrambled eggs, topped with a bit of cheese served with fresh fruit and potatoes.
A light simple Sunday breakfast served by smiling waiters, making it a pleasant way to end a lazy weekend.