TIDBITE
July 23, 2014
I was surprised to find tasty food, alfresco dining and attentive service at Brio Tuscan Grille at Westfarms Mall in Farmington, CT, where I was recently returning something and meeting friends for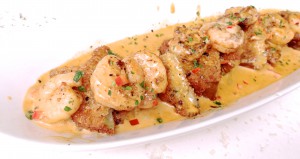 lunch.
We sat on the terrace, beginning with an plentiful app attractively presented with nine pan-seared shrimp in a light cream sauce with a black pepper kick, over bread-crusted eggplant ($10.95). That could have been a meal in itself.  It went well with my Matua Valley Sauvignon Blanc (Marlborough, New Zealand, $9.25) and one of my dining partner's 10Span Chardonnay ($8.25).
We next shared a hearty Romaine salad tossed with Parmesan, toasted Brioche croutons and housemade Caesar dressing ($8.95), topped with lots of requested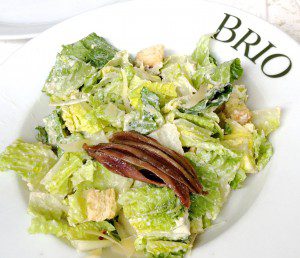 anchovies. Refreshingly crisp.
Although the grilled chicken and avocado club with Tuscan fries had nice melange of flavors ($13.35) from the Applewood bacon, lettuce, tomato, Provolone and roasted tomato mayonnaise – it wasn't a "club" sandwich as described, nor was it served with thick fries. Menu mismatch, I'd still recommend.
Also decent is their Pasta BRIO – a large bowl of rigatoni, grilled chicken, seared mushrooms and roasted red pepper sauce ($14.35).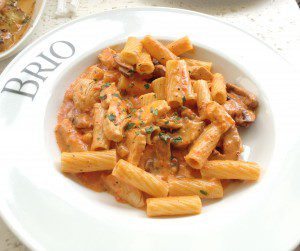 I am glad to have found a good place to dine at the mall. So even if shopping isn't on your schedule, a visit to Brio is worth the trip to Westfarms Mall.
- bonnie
Brio Tuscan Grille
325 Westfarms Mall
Farmington, CT 06032
(860) 561-8866
Leave a Comment
Posting Policy
Bite of the Best encourages our readers to comment on and review any products that we write about. Please express your opinions in a mature and civil tone of voice. We will not post rude or otherwise inappropriate material on Bite of the Best. We look forward to your comments and reviews!