CITY EDITIONS
February 23, 2013
We stopped for a bite at Brazi's on our way to opening night of Curse of the Sta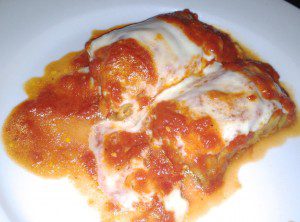 rving Glass, a work by the Tony Award and Pulitzer Prize-winning playwright Sam Shepard (who I met … and school-girl swooned over… at the Kentucky Derby years ago!) and directed by Gordon Edelstein.
Knowing we'd be back there after the performance for the opening night party, we nibbled only appetizers. The delicate Eggplant Rollatini (rolled eggplant stuffed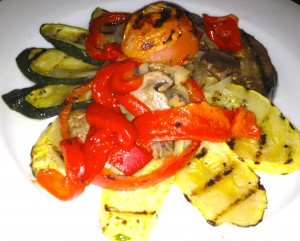 with ricotta and topped with marinara sauce, $9.50) was almost a meal in itself with the two hearty portions. We combined that with a variety of grilled veggies ($8.95) that included zucchini, yellow squash, red pepper, eggplant, mushrooms and a tomato.
We then scurried off to the show and were warned as we walked in that there would be nudity, profanity and loud noises. The show (like all shows these days) didn't start on time… we later learned that is was Edie, the live 3-week old lamb that kept them from starting!  I won't tell you any mor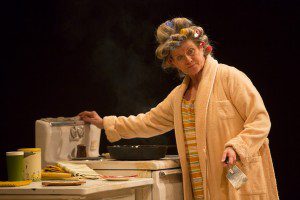 e about Edie, as I don't want to be a spoiler!
The cast includes Tony Award-winner Judith Ivey (who appeared in Long Wharf 's productions of The Glass Menagerie and Shirley Valentine and who recently stole the show in The Heiress on Broadway), Peter Albrink, Ben Becher, Clark Middleton, John Procaccino (who was fabulous in Long Wharf's Down the Garden Paths), Kevin Tighe, and  — the weakest link — Elvy Yost (whose performance was a bit high-schoolish).
The play is a dark comedy about a dysfunctional family that's describable as a Greek tragedy. For sure it's food (pun intended) for interesting conversations. Curse of the Starving Class runs through March 10. For more information about Long Wharf Theatre or to purchase tickets, visit www.longwharf.org or call 203-787-4282.
Brazi's Italian Restaurant
201 Food Terminal Plz
New Haven, CT 06511
(203) 498-2488

Rate This Product
Mouseover the crowns to highlight your rating and then click to record your rating. The rating shown is the average of all the user votes. You can only rate each product once.
Leave a Comment or Write a Review
Posting Policy
Bite of the Best encourages our readers to comment on and review any products that we write about. Please express your opinions in a mature and civil tone of voice. We will not post rude or otherwise inappropriate material on Bite of the Best. We look forward to your comments and reviews!