My theatre-going friends and I were off to see Nathan Lane in "The Nance" and decided to get a bite right across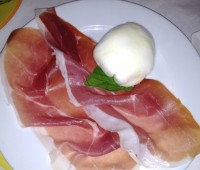 from the Lyceum Theatre. Bond 45 is an Italian restaurant by Trattoria Dell'Arte ow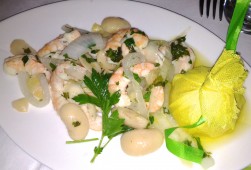 ner Shelly Fireman.
Instead of ordering entrees, we had an array of antipasti including warm slices of cauliflower steak ($9) caramelized fennel ($6), grilled asparagus ($10), roasted red beets ($6), warm artichoke hearts ($12) shrimp and corona beans ($12) burrata with prosciutto ($20).  All dishes were fine, nothing worth commenting on.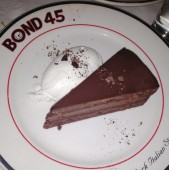 House prepared dessert were tastier, including the New York cheeecake with fresh strawberries  ($12) and the triple-layered Valrhona Chocolate cream cake and whipped cream ($12).
The best part of the meal was it's location, across the street  from Nathan Lane's amazing performance.
– bonnie
Bond 45
Midtown West
154 W 45th St
New York, NY 10036
(212) 869-4545