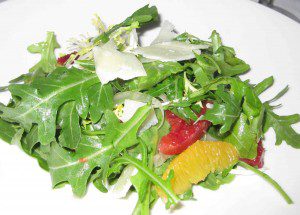 Tried Blue water grill in January during Restaurant Week in New York. The special $24.07 luncheon menu offered choices that I learned are not (yet) on the regular menu. Interesting, tasty choices — too bad the service didn't match the offerings
The waiter served our appetizers before he did our wine, and once we reminded him about the wine, he served that — a crisp Gustav Grüner Veltliner from the Wachau region ($24.07) — too warm to drink.  To make matters worse,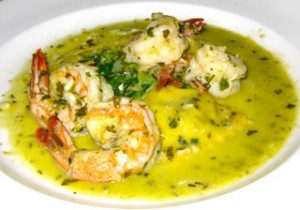 Timothy brought our entrees and placed them onto the table while we were still eating our apps.
Timothy's service aside (as that could and should be fixed), the food was worth it. We shared a delicate Heirloom Citrus Salad, including naval, ruby red grapefruit and blood orange a top a lightly dressed arugula salad with a shaving of cheese and a flavorful Scallop Maki, made crunchy with strips of crisp Asian pear.
The smoky grilled swordfish sandwich came with a nondescript slaw. Before ordering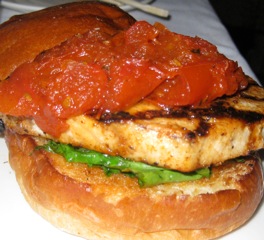 I checked my Monterey Bay Seafood Watch list and noticed it said to avoid imported Swordfish, with a good alternative US Longline, and the best choice US and Canada Harpoon, Handline.  So I asked the waiter where the swordfish came from. "Good question," Timothy said, "I'll find out."
The grilled shrimp and spinach ravioli — our other entree — came coated with a delicate Meyer lemon emulsion. Too full to try dessert, we asked to have it to go. I'll have to return sometime to sample the regular menu!
Now if only they could get that service right…
PS: I realized when I sat down to write this, that Timothy had not returned with the response about the Swordfish. In a follow up call restaurant, I was told the restaurant did not avoid imported swordfish, they just "purchased the best quality available."
– bonnie

Blue Water Grill
31 Union Square West
New York, NY 10003-3203
212-675-9500
www.brguestrestaurants.com