It was the enticing BBQ aroma that brought us into Blue Smoke for a nibble. We started with the hearty appetizer special  — Braised Short Rib with Sweet Po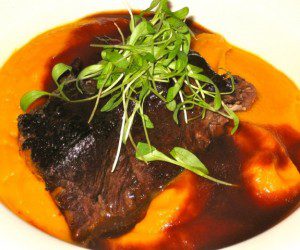 tato Puree & Red Wine Sauce ($12.95) — that consisted of  folk-tender, melt in-your-mouth beef in a too-watery sweet potato puree, topped with a rich wine sauce and perfectly accented with micro-cilantro.
We happened to mention to our waitress that we were sharing the Pulled Pork Sandwich. When served, the kitchen plated a mini-slider along with coleslaw and pickles for each of us, which was the size they have served on their kiddie menu ($11.50). What a nice gesture! But truth? We felt gypped on the filing!  Along with that we sampled Spicy Cheese Fries ($6.60). The potatoes arrived crisp, with only a hint of favor and topped with a disappointing  cheese topping sadly redolent of  seasoned cheez whiz. I don't recommend that, but do suggest the flavorful collard greens with pork ($5.95).
– bonnie
Follow @BonnieBOTB

Blue Smoke
116 E 27th St
New York, NY 10016
www.bluesmoke.com
(212) 447-7733