Blue Fin's location in the W Times Square is ideal for pre-theatre — or just people watc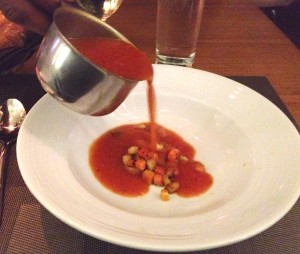 hing from its glass-enclosed street level bar right across from TKTS booth. We were on our way to see the fun "Priscilla Queen of the Desert" that has audiences dancing in their seats that was showing across the street at the Palace theatre.
We happened there during winter restaurant week with a $35 dinner deal. Also at $35 were two selections of wine. We opted both deals: the Jean Aubron muscadet, from the Loire Valley, 2009 and an order of the price-fix menu.
The waiter placed a bowl full of diced crisp veggies with a white bean crostini in front of us as the start of the winter vegetable minestrone, and then poured over the rich tomato soup. Hearty and delicious.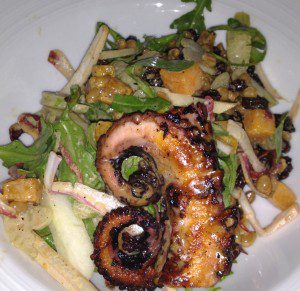 The octopus in the eponymous salad was grilled to perfection and served with toasted pumpkin seeds, wheat berries, diced apple, butternut squash in a brown butter vinaigrette ($16).  I would have preferred more octopus and less of the not-described-on-the-menu greens.
The thyme-crusted  gooseberry cove cod was disappointing, as the fish was mushy. I left the cod on the plate, but enjoyed every bite of the chanterelles, wilted spinach and sauteed fingerling potatoes in the lemon-brown caper sauce.
Oddly the meyer lemon steam pudding was served neither warm not chilled – the best part of it were the garnish of fresh raspberries, blueberries and blackberries.
While dining there,  Blue Fin offered a jass duo on the staircase between their two levels, making the dining experience ever more pleasant. I'd recommend this on your way to theater.
– bonnie
Follow @BonnieBOTB
Blue Fin
W Hotel, Times Square
1567 Broadway at 47th St
NY 10036
212.918.1400
brguestrestaurants.com
Save