Adrien greeted us as we entered Bistro Bordeux.  If I hadn't known better,  I'd have thought I had arrived in France instead of Chicago, as I'd just come off a plane.
The bistro, its menu and Adrien's service turned brunch in Evanston into an authentic French dining experience. Since he recommended their version of the Bellini ($7.50) with organic pear puree and Varichon Blanc de Blanc, I ordered that and wasn't disappointed.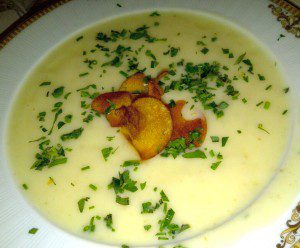 My dining companion was more traditional, having the Mimosa made with freshly squeezed oj and the Varichon Blanc de Blanc.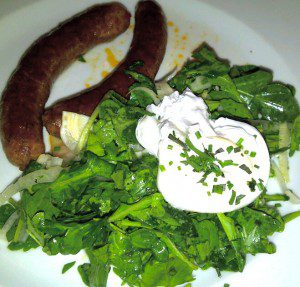 I ordered the Oeuf & Lamb Merguez ($13.50) with homemade fresh lamb sausage, a poached egg and a fennel and arugula salad. My companion tried the soup d'jour served with a crisp baguette presented in a brown paper bag with a tub of butter. The soup was a delicate vegan version of vichysoisse, made with roasted potatoes, fresh fennel, almond milk passed through a chinois (sieve) more than once, making it exceptionally silky. Just before serving it was drizzled with garlic oil and garnished with freshly made potato chips ($7.50). From what I sampled at brunch, I'd for sure recommend this bistro – which has a few tables of outdoor street seating.
– bonnie
Bistro Bordeaux
618 Church St
Evanston, IL 60201
www.lebistrobordeaux.com
(847) 424-1483