TIDBITE
June 1, 2009
For me, there's no meal more relaxing than Sunday brunch. My family in San Luis Obispo agreed. On Sunday,  we walked into town to the Big Sky Cafe.  With seven of us — we knew to get there early enough so we had no wait. It worked.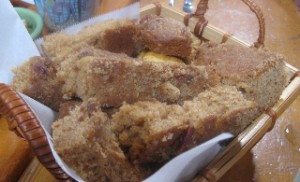 I was looking forward to brunch as I had read that Big Sky focused on fresh and local ingredients. I wasn't disappointed. Once they poured steaming hot coffee, we were presented with a basket filled with jalapeno corn muffins and coffee cake replete with ginger and apple pieces. I restrained myself, having only one of each.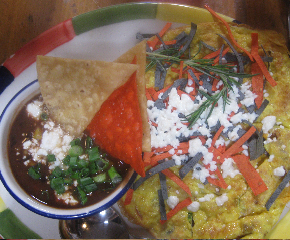 I tried the day's special Spanish Chorizo Frittata filled with pimientón rice and sauteed onions and peppers. With each bite, I spooned over some of the accompanying spicy black bean chili. ($8.95).
Others had the Mediterranean Scramble with garlic, dried tomatoes, fresh spinach, scallions, fresh rosemary and Parmesan cheese ($8.95).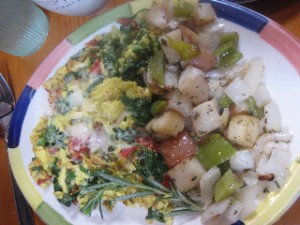 I'd recommend this to anyone visiting San Luis Obispo.
- bonnie
2 Comments on "Big Sky Cafe Breakfast in San Luis Obispo (CA)"
dottie Says:


Agreed!

Kelly Says:


Big Sky was our go-to place for breakfast, but the last two visits have been a disappointment.
Bacon was undercooked, returned to our table burnt after too long in the microwave. ?New cook? Something is definitely off.
Leave a Comment
Posting Policy
Bite of the Best encourages our readers to comment on and review any products that we write about. Please express your opinions in a mature and civil tone of voice. We will not post rude or otherwise inappropriate material on Bite of the Best. We look forward to your comments and reviews!