Located right next to the Beacon Theater in the Hotel Beacon you'll find a spacious and sophisticated lounge where you can satisfy your hunger with unusual bar food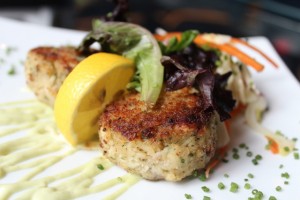 chock full of fresh vegetables and other healthful ingredients.
I was there recently as their guest and tried many lite bar bites.
Their Mexican twist on shrimp cocktail ($14) included that crustacean marinated in a spicy tomato sauce served in a martini glass with diced avocado, accompanied by tortilla chips.
Although referred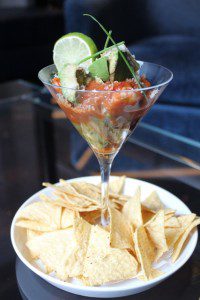 to as jumbo on the menu, the three crab cakes ($15) are medallion size and served with wasabi-flavored mayo and a fennel-citrus salad.
The seasonal chilled vegetable plate ($18) consisted of fresh edamame, sauteed shitake, mushrooms, string beans, bean sprouts, asparagus and a freshly sliced whole avocado plus a spicy sesame dressing. Amazing fare for a bar.
Not to be missed are the three sliders filled with pulled pork served on a brioche buns ($15) with spicy slaw and vegetable chips. Oddly the menu refers to these as a sandwich and the French dip sandwiches (on crisp French bread) as sliders. That sliced beef "sandwich" contains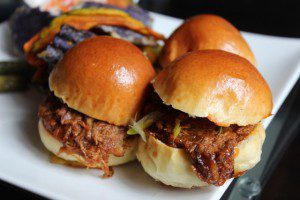 caramelized onions and peppers, fontina cheese and a horseradish dressing ( $14).  It's cut in three for easy sharing and dipping; also accompanied by chips.
My least favorite that evening was the warm goat cheese on toast ($13) over some salad, green beans and pickled beets in a Dijon vinaigrette. By the time we got to it, I had my overfill of veggies – an unusual state of being for a bar! That, and the goat cheese had been sprinkled with an overabundance of herbs.
I highly recommend.
Beacon Bar at Hotel Beacon
2130 Broadway
(75th Street)
New York, NY 10023
212.787.1100