CITY EDITIONS
September 2, 2012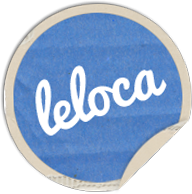 "Where shall we eat?"   "Where can we get in?"
Those are the usual queries heard at dinnertime around Manhattan. To the rescue is Leloca, a new free smartphone app that connects people with over 200 New York restaurant offering 30-50% off their regular prices so they will fill their seats! Restaurants include Aroma Wine & Kitchen, Mas (la Grillade), Pera Mediterranean Brasserie, Pera (SoHo), Yerba Buena, Ten Degrees Bar, Centro Vinoteca, Cornelia St. Café, Ayza Wine & Chocolate (West Village), Cafe du Soleil, Cafe du Soleil and many more.
The only catch? You have only 45 minutes from the time you choose a restaurant to get there. Since the deals are in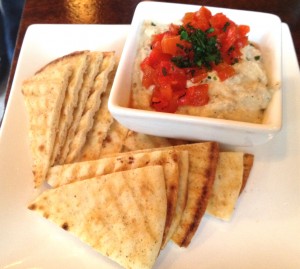 real time, once the restaurants fill their empty seats, they can pull the offer.
Leloca's publicist offered me the chance to try it out.  I couldn't resist and I invited a friend to join me. I knew we wouldn't know where we'll be dining until that day when I logged into Leloca and picked a place.
Wanting to eat at 7, I logged in at 6:15 and saw Ayza Wine & Chocolate Bar in the West Village.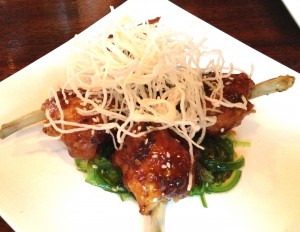 It's mainly a bar, but with lots of tasty small plates.  We checked in, scanned the code we received and would receive 30% off of our bill. (Prices listed are the regular ones; they do not reflect our discount)
We started with a smoky eggplant puree with roasted bell peppers, fresh parsley and toasted pita bread ($6). I liked the four spicy angry chicken lollipops ($7) in a  spicy sesame and hoisin sauce and topped with crispy rice noodles.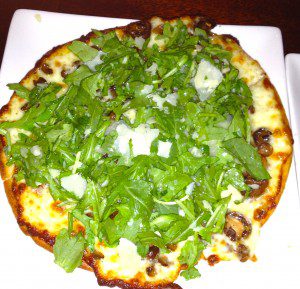 Also tasty are the crispy baby shrimp dumplings a top a seaweed salad ($7)  with a garlic chile sauce for dipping.
My least favorite was the hot artichoke hearts with Irish cheddar garnished with fresh dices tomatoes and served with toasted pita ($6). We loved  the not-to-be-missed salad with goat cheese brûlée  with field greens, toasted walnuts and marinated beets all tossed in a truffle walnut sherry vinaigrette ($11). To give the cheese a crackled top ( brûlée ), the restaurant tops it with brown sugar and then "torches" it. I'd go back just for this signature salad.
Also amazing, is the Ayza-style pizza with crisp pita bread turned  crust. We sampled the wild mushroom tart with fresh mozzarella and mushrooms topped with arugula, drizzled with truffle oil and sprinkled with shaved Parmesan.
A new place less than a year old, (second location) concept wine and chocolate.. idea quality small flavorful bites -
When you  go, do leave room for chocolate dessert by Xocolatti ($3 each or choice of three $7, five $12) and Jacques Torres ($2 each or choice of four $7, six $10).
Ayza Wine & Chocolate Bar West Village
1 7th Avenue South
New York, NY 10014
(212) 365-2992
4 Comments on "Ayza Wine & Chocolate Bar, West Village + Leloca"
I Just Want To Eat! Says:


Thanks for sharing your experience. I have been invited to try Leloca but did not have a chance yet. The food at Ayza W & C seems interesting. I like the concept of small plates as it allows to share and try different things. I will definitely try!

Bonnie from BiteoftheBest.com Says:


Leloca concept is great, especially for those who want to decide last minute where to eat. Try it – you have nothing to lose.

And… I found Ayza a hoppin' place — packed on a week night by the time I left — with interesting small plates to share. If you go, don't miss the goat cheese brûlée salad!

arma Says:


I believe the best way to go to this Ayza Wine and Chocolate Bar is with no idea what you want. Every time I go to this place they take me on a wine journey.
Now I don't really know a lot about wine but the bartender's knowledge of wine certainly makes up for my lack there of. They always let you know exactly what you are getting and if you aren't careful you might
just learn something. It can get a little packed so don't arrive too late. What this place is not is cheap. It isn't crazy expensive either but don't get too happy or your bill will remedy that. 

I just can't say
enough about the people that work there, frankly they are the reason I go. Super nice, knowledgeable, and incredibly good people.

Lyerka Says:


The service at Ayza is great. Definitely try the pizzas.
Rate This Product
Mouseover the crowns to highlight your rating and then click to record your rating. The rating shown is the average of all the user votes. You can only rate each product once.
Leave a Comment or Write a Review
Posting Policy
Bite of the Best encourages our readers to comment on and review any products that we write about. Please express your opinions in a mature and civil tone of voice. We will not post rude or otherwise inappropriate material on Bite of the Best. We look forward to your comments and reviews!