CITY EDITIONS
December 10, 2009
Although I knew I could select the actual fish I wanted for dinner from the lineup of glistening whole fresh fish arranged on a bed of ice in the front dining room of Avra, I opted to do so from the menu instead.But wine first.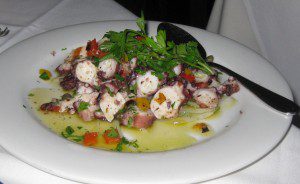 Not being familiar with Greek wines, we asked the waiter for a suggestion of a white wine. His recommendation of the Domaine Mercouri, "Kallisto" (Assyrtico Robla, $40) was crisp, not too fruity and a perfect accompaniment to the seafood.
We stared with Avra Octapoli — sushi-tender Portuguese octopus with red onions, red wine vinegar ($24.95), grilled to perfection being moist and tender.
Next we opted for the grilled fish. But which one? The freshly caught whole fish selections included Arctic char, red porgy, black sea bass, Maine lobster, loup de mer, blue-spotted sea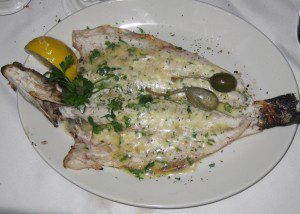 bream, pandora and more, priced per pound. We both chose imported Lavraki — "Loup de mer" — at $29.95 per pound (also known as Mediterranean seabass, branzino or branzini), a lean white delicate fish that cooks up moist and flaky.
As we each took a bite of our perfectly grilled fish, we said in unison, "So delicious," then looked at each other and giggled. The fish alone, is worth the visit.
- bonnie
Avra
www.avrany.com
141 E 48th St
New York, NY 10017-1223
(212) 759-8550

One Comment on "Avra Estiatorio for Fresh Fish Cooked to Perfection"
Food and Restaurant Reviews – Anthos – Food Blog | Bite of the Best Says:


[...] ($32). Not that it was bad, but I'd recently had a mouthwatering tastier version at Avra, that and we ate every morsel of the saddle of lamb, the dish I'd [...]
Leave a Comment
Posting Policy
Bite of the Best encourages our readers to comment on and review any products that we write about. Please express your opinions in a mature and civil tone of voice. We will not post rude or otherwise inappropriate material on Bite of the Best. We look forward to your comments and reviews!