I made a date to return to Avec, as soon as I knew I was heading to Chicago for the BlogHer conference last month. I had been before, but used any excuse to return this time with my camera in hand so  I could share photos.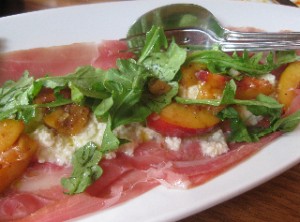 Avec is a wine bar located next door to Blackbird, where I've eaten a couple of times (both owned Paul Kahan). I'd go back to Avec every time I'm in Chicago, but not  Blackbird.
There are no reservations at Avec; you sit at communal tables with many others. Aptly, Avec means "with" in French.
Each time I've befriended (and sometimes even shared food with) the others at my table. Its a fun place to dine, whether alone or with a group. The friends I was this time had been there the previous night, but told me that "the food is so good that I could eat there every night." I could too. That is if I lived in Chicago.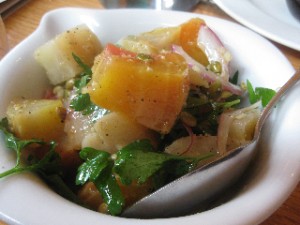 Everything we tried on this Mediterranean menu was not only delicious, but an unusual explosion of flavors. The restaurant offered more than a dozen "small plates" and numerous "large plates."
We started with their deluxe decadent focaccia filled with Taleggio cheese, truffle oil, and fresh herbs ($14.50) and shaved Brussels spouts with fennel, dill, shaves of Parmesan, red onion and a brown butter vinaigrette ($9), which we washed down with a bottle of Saladini Pilastri ($32) — Rosso, Piceno, Marche, a blend of sangiovese and montepulciano.
We followed that with La Quercia prosciutto with grilled fresh peaches, George Rasmussen's fresh ricotta, arugula and a vinaigrette ($20.50), and the night's special salad of fresh golden beets in an orange vinaigrette ($9). We also had to have what's almost become the signature dish of chorizo-stuffed dates. Rich, decadent, satisfying. Sadly, we had no room for more.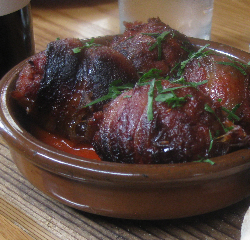 I must add, Avec has really good service too (other than a curmudgeonly hostess who needs to find another job!) Miss attitude plus!
That woman aside, I'd highly recommend Avec to anyone to enjoy the creative cuisine of chef de cuisine Koren Grieveson, who works in collaboration with chef/owner Paul Kahan. This past year, Koren was nominated for Best Chef 2009 Great Lakes Region by the James Beard Foundation.
My advice, if you don't like to wait, is to dine really early (we got there at 5:45pm!) or very late so the wait isn't long (late as in Barcelona-style late, or 11 pm!). This is one place well worth the wait.