Arugula in West Hartford serves Mediterranean-style food blending an amalgam of flavors in unusual delicious ways –  at least from the items I sampled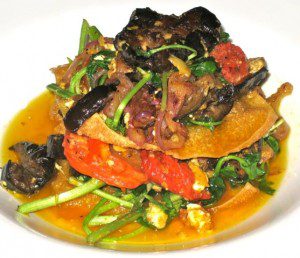 on a recent visit to this quiet and comfy place.
I started with a warm roasted eggplant & wonton "napoleon" ($14) with layers of  roasted eggplant, crisp wontons, sweet red onions, roasted feta and roasted tomatoes flavored with both tahina and its light curry vinaigrette.  To eat it, you toss together the layered ingredients that blend into an irresistible jumble of flavors. A must to try.
I'd also suggest one of their flatbreads – a meal in itself. Think pizza on cracker-like crust. We tried the Duck Co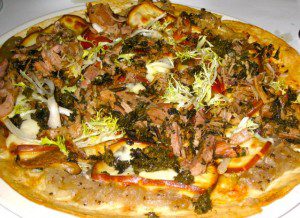 nfit & Chorizo Sausage version ($17) and weren't disappointed. The crust is first spread with a cooked onions marmalade and topped with smoked mozzarella, chorizo sausage and mushrooms and baked. Then, it is  finished with an abundant amount of duck confit and an accent of truffle-vinaigrette dressed frisée.
Our medium bodied 100% cabernet franc from the Loire region of France with its berry flavor and hint of spice, stood up to both flavorful dishes. (Chinon Jean-Maurice Raffault, "Les Galuches" 2009, $38).
A great respite after some shopping, one I plan to return to so I can try more dishes from this creative kitchen.
– bonnie
Follow @BonnieBOTB

Arugula
953 Farmington Ave
West Hartford, CT 06107
www.arugula-bistro.com
(860) 561-4888