Andrra offers Mediterranean-styled cuisine using local produce and serving fresh fish. It's a new restaurant in a place with a sort-of revolving door – last year it was something else. What continues to draw patrons, no matter what the name, is the incredible vista with magnificent sunset by the water.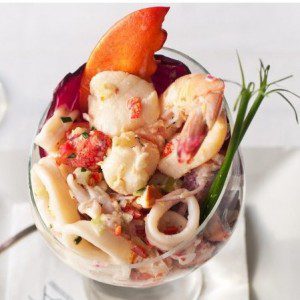 That part is wonderful, what isn't so great is the noise level. To make matters worse, I was sitting with a very tired toddler, screaming in my ear as he was crawling over his father, who was attempting to eat. Noise aside, the food is good, albeit pricey. Well, it is the Hamptons after all.
Our table started chopped and baked local Gardiner's Bay cherrystones ($14) clams, sprinkled with Mediterranean herbs. And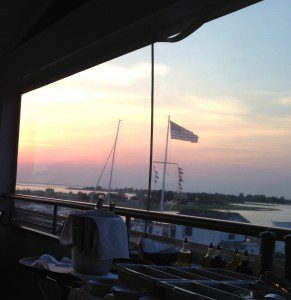 an appetizer portion of Maryland crab formed into a cake with little else leaving the crustacean to shine, served with a side of a fresh summer corn salsa ($19). I savored the fresh chilled seafood cocktail aptly called stars of the sea, replete with jumbo shrimp, sea scallops, calamari and poached lobster chunks with piquillo peppers ($23).
Entrees included a tender and moist trout ($32) served with local veggies and lobster pappardelle ($29), broad flat ribbons of pasta with lots of fresh plum tomatoes and ribbons zucchini with a splash of both brandy and cream.
For an idyllic tasty moment, I highly recommend stopping by for a portion of the stars of the sea (pictured above), a glass of crisp white and the sunset. And then dining much later after all the little ones are asleep.
– bonnie
Andrra
39 Gann Road
East Hampton, NY 11937
631.329.3667