CITY EDITIONS
March 31, 2012
To get away from the hustle and bustle one night while attending the South Beach (SOBE) wine and food festival last month,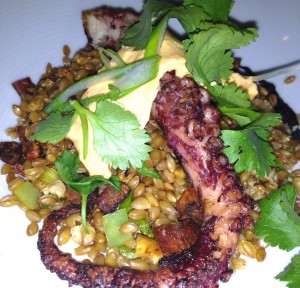 I walked almost to the end of Lincoln Road to dine at Altamare —  a place for really fresh seafood while in Miami.
The friend I was dining with canceled and not being one who enjoys fine dining alone, I sat at the bar and chatted with restaurateur Claudio Fordano while I ate.
At his suggestion, I started with grilled octopus ($18) with crunchy farro, diced chorizo, scallions and fresh cilantro all drizzled with smoked paprika aoli. I could have eaten an entree portion of this! I also tried the saute of four tender white Canaveral head-on shrimp ($14) served with Swan Farms whole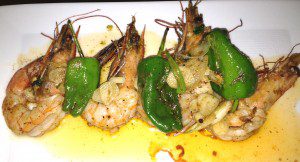 shishito peppers, garlic and lime zest – had I not been wearing a silk blouse, I would have indulged and sucked on the shrimp heads, as Claudio instructed. The housemade wild mushroom ravioli are filled and served with delicate mushrooms and topped with a truffle cream and shredded piave vecchio cheese.
For my entree, I sampled the pan-seared local hog fish, in an unusual uni sauce served with more mushrooms and crunchy sunchoke chips ($34).
Not able to say no when nudged by the owner to have  dessert, I ordered the incredible warm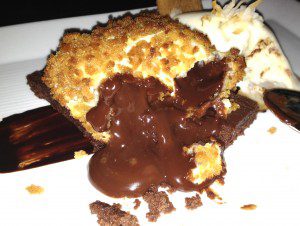 chocolate croquette ($10).  So glad I did as the flourless chocolate cake comes topped with a deep fried chocolate bar (as you can see it in the photo, oozing out after I took a spoonful) and some coconut gelato. Incredibly decadent and rich. Chocolate lovers, this dessert is not to be missed.
- bonnie
Follow @BonnieBOTB
Altamare
1233 Lincoln Road
Miami Beach, FL 33139
(305) 532-3061
altamarerestaurant.com

One Comment on "Altamare, Miami"
Dan Says:


I ate at Altamare last night with my girlfriend, who is a trained chef. It was one of the worst meals either of us have ever had and at the same time, it was one of the most expensive. The rest of the night she was afraid she would get sick.

We arrived at Altamare at ~730 on a Saturday night. We were seated and given menus promptly. We were on South Beach, so we ordered mojitos, which were terrible. If I had known they were $11 each, I would have sent them back then. Bread was brought to our table. It was slices of cut baguette, which was neither warm nor fresh. It was stale and after tearing a piece in half, neither of us ate any of it. At this point we should have realized the quality of the place we were at, and should have gotten up and walked out.

I asked the waiter, who barely spoke English, how big the salads are, since they are $12, and I'm used to seeing a side salad for ~$6. I asked if we could split it because we were going to be getting entrees too. He said he could not split the salad, so she ordered the mozzarella plate. The salads came out promptly. In the salad I had, only lettuce and shaved cheese were visible. After eating a bit, I realized that about half of a mushy avocado and a couple of olives were thrown on one side of the bowl and covered by the lettuce. C for presentation, but the food was ok. The mozzarella was really fresh and tasted good. The yellow tomatoes with it were also fresh and really good.

We ordered entrees sometime while eating the appetizers. The entrees for the people next to us came out well before ours, and we could smell an old fishy stench emanating from the next table. At this point we thought about cancelling our orders, but we couldn't get the waiter to come back to our table. We sat for 30 minutes with wine orders on the tips of our tongues and empty drinks while the waiter talked to every table around us. I got cash out of my pocket and was going to drop it and leave, but that was the exact instant when our food arrived, our stinky food.

My hogfish obviously had no sauce on it, although it was supposed to come with a butter sauce, and it smelled awful. I've had hogfish several times at other places, and I really don't even think this was hogfish. I was starving and I'm not a fish expert or so I didn't call the waiter over to argue with him. The fish tasted like Gorton's fish sticks and it made my teeth squeak when I ate it. I kept hoping the next bite would be better. I would say that the bites more central to the fillet did not make my teeth squeak, and the taste was more neutral. There was something wrong with the fish, but after eating several bites I didn't want to send it back and look like I wanted a hand out. I did like the roasted carrots, and I might make those at home.

My date ordered the shellfish risotto. The risotto was good, and she liked it. She tried a mussel and thought it was overcooked. She tried another one and said, "It tastes like 'feces', I think I'm going to be sick." At which point we stopped eating. But again, she had eaten half the risotto before trying the shellfish and I'm not a cheapskate, so we didn't try to send it back. The seafood we were served was obviously spoiled.

I still couldn't get the waiter to come over, so I gave my credit card to the girl who filled our water glasses and told her to cash us out. $11 mojitos? $165 for spoiled fish? I will admit that I should have spoken up more, and probably should have sent things back when they were questionable. I don't go out to a restaurant in order to argue. This experience has changed my life and I will never again eat or pay for any food that seems spoiled.

I am writing this because we both read all the reviews before we went and still had a terrible dining experience. Be forewarned.
Rate This Product
Mouseover the crowns to highlight your rating and then click to record your rating. The rating shown is the average of all the user votes. You can only rate each product once.
Leave a Comment or Write a Review
Posting Policy
Bite of the Best encourages our readers to comment on and review any products that we write about. Please express your opinions in a mature and civil tone of voice. We will not post rude or otherwise inappropriate material on Bite of the Best. We look forward to your comments and reviews!