To get away from the hustle and bustle one night while attending the South Beach (SOBE) wine and food festival last month,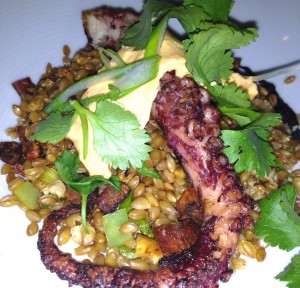 I walked almost to the end of Lincoln Road to dine at Altamare —  a place for really fresh seafood while in Miami.
The friend I was dining with canceled and not being one who enjoys fine dining alone, I sat at the bar and chatted with restaurateur Claudio Fordano while I ate.
At his suggestion, I started with grilled octopus ($18) with crunchy farro, diced chorizo, scallions and fresh cilantro all drizzled with smoked paprika aoli. I could have eaten an entree portion of this! I also tried the saute of four tender white Canaveral head-on shrimp ($14) served with Swan Farms whole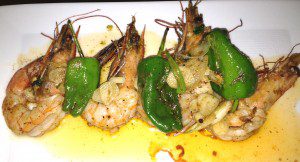 shishito peppers, garlic and lime zest – had I not been wearing a silk blouse, I would have indulged and sucked on the shrimp heads, as Claudio instructed. The housemade wild mushroom ravioli are filled and served with delicate mushrooms and topped with a truffle cream and shredded piave vecchio cheese.
For my entree, I sampled the pan-seared local hog fish, in an unusual uni sauce served with more mushrooms and crunchy sunchoke chips ($34).
Not able to say no when nudged by the owner to have  dessert, I ordered the incredible warm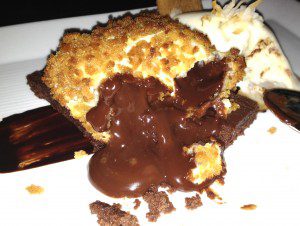 chocolate croquette ($10).  So glad I did as the flourless chocolate cake comes topped with a deep fried chocolate bar (as you can see it in the photo, oozing out after I took a spoonful) and some coconut gelato. Incredibly decadent and rich. Chocolate lovers, this dessert is not to be missed.
– bonnie
Follow @BonnieBOTB
Altamare
1233 Lincoln Road
Miami Beach, FL 33139
(305) 532-3061
altamarerestaurant.com