Starving after attending Meatpacking Uncorked at Food Network's New York City Wine & Food Festival, we headed for Abe & Arthur's right in the area — a new two-level place that had recently opened.  We just needed a nibble.
In trying to decide between the various salads on the menu, we asked our very enthusiastic server. The Satur Farm's Field Greens ($11) with "exploding" blue cheese croutons & crisp Benton's bacon was his choice.
He explained how they made the croutons. First they dipped blue cheese cubes in panko bread crumbs and then fried them, resulting in a  burst of flavor.  How could we resist? We ordered that salad to accompany our meal.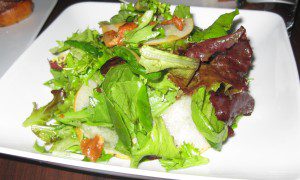 "Where are the croutons?" I asked the server (who was not our original one).
"They're under the greens," he assured us.
We started to eat the greens and were still looking for the croutons, when our original server came out of the kitchen with a small bowl and poured the contents of that bowl over our salads.
One added we wondered how he could have missed the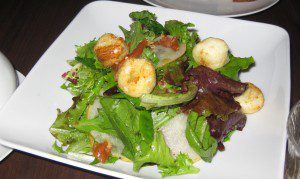 couldn't-possibly-be-hidden-under-the-greens croutons.  They were — by the way — the burst of flavor that the waiter had described.
I'd hope by now the kitchen has ironed out all their kinks!
– bonnie
Abe & Arthur's
abeandarthursrestaurant.com
409 W. 14th St
New York, NY 10014
646-289-3930